How to Get a Business Phone Number Setup on Your Cell
Have you ever seen a business use a vanity phone number like 1-800-CAR-WASH and thought, "I need to get me one of those"?
The fact is, anyone can get a professional email address, but a business phone number… Well, it adds a whole new level of professionalism to your business. It also builds better brand awareness and reinforces buying confidence for potential customers who take comfort in the knowledge that they can speak to a real, live person.
Fortunately, getting a business phone number is a straightforward thing to do with a virtual phone system. Virtual phone systems, like Grasshopper, allow you to use your existing mobile phone, download an app, and use it to send-receive phone calls via a business phone number of your choice.
What's more, you don't need to spend hundreds of dollars to install a landline or purchase a second phone. You can use your existing cell phone and keep your existing mobile number. All you do, is add your business number to that. Plus, there are lots of useful features you can take advantage of, including:
Multiple extensions for everyone on your team
Call forwarding – send calls to your mobile phone and work from anywhere in the world
Voicemails transcribed – get your messages delivered to your email as text
Send and received texts to your toll-free or local number
Custom greetings and music on hold
Getting started with a new virtual business phone number is easy and something you can do yourself. It takes less than 10 minutes to get!
How to Get Started with a Virtual Business Number in 10 Minutes
You don't need to be technically adept when it comes to phone systems in order to get your own business phone number up and running. But you do need to set aside about 10 minutes of your time to choose your number and set up your account.
Here's what you need to do:
Step 1. Choose a Phone Number
First, you'll need to decide whether you want a vanity toll-free or a local number.
Toll-free numbers are great for marketing and a national presence as they can make your business sound more professional.
Vanity numbers are ideal for branding and are easy for customers to remember, i.e. 1-800-CARWASH.
A local number, on the other hand, will use your local area code. Customers in regional towns and cities might prefer this as they'll know they're dealing with a local business.
Check to See if the Number You Want is Available
If you want a vanity number, you'll need to search for the one you want to make sure it's available.
You can search for the word or phrase you want here to find available vanity numbers. The search term you enter must use up to seven letters or numbers (as a phone number is 7 digits long).
If you simply want a toll-free number, you can choose to have one automatically generated for you.
Once you've found the number you want (and one that's not already taken), you'll need to sign up for an account to reserve it and set up your new business phone number.
Step 2. Create a Custom Greeting
After choosing your new business phone number and setting up your account with Grasshopper, the next step is setting up a custom greeting. This will be the recorded greeting that your callers hear when they phone you.
The default message that Grasshopper sets up for you is fairly straightforward:
"Thank you for calling. To speak to a representative, please press 0."
This greeting might work for you, but it's more likely you'll want to change it to something that better reflects your business. Grasshopper provides a few different options for recording greetings: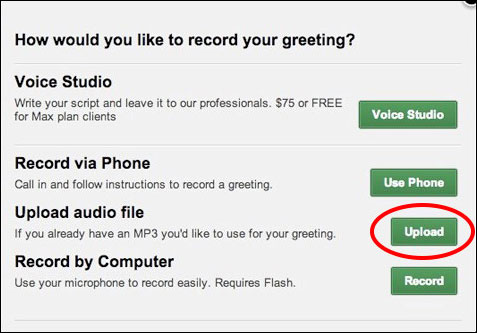 Using Grasshopper's Voice Studio, you can let someone else record a professional greeting for you for a fee, or free if it's included in your chosen plan.
The option I would recommend is recording and uploading your own greeting as an MP3 file. Recording your own message using your own voice allows you to personalize your greeting and ensure it sounds exactly how you want. You can also make as many recordings as you want before choosing and editing the one you like most.
Step 3. Add Extensions for Your Employees
If you have multiple employees working for you in different areas of your business, Grasshopper provides an unlimited number of extensions so callers can be forwarded to the right person. For example, when a caller dials your number, they would hear: "For sales, press 1. For support, press 2."
Each extension has its own call forwarding, voicemail, and message delivery settings, allowing every employee to customize their own extension. This is a useful feature, whether you have one employee or several located all over the world.
Or, if it's just you taking care of all functions in your business, you can redirect different departmental extensions to yourself.
Step 4. Update Your Voicemail Message
Besides your main greeting, you should also update your voicemail message. This is the message callers will hear when they call and you don't pick up the phone, prompting them to leave a voicemail.
Grasshopper's default message is:
"Thank you for calling. Please leave a message and your call will be returned as soon as possible."
This message is just fine, though you'll likely want to change it to match the tone and feel of your custom greeting.
In your Grasshopper account settings, you can create new voicemail and call forwarding and extension greetings to replace the system defaults.
Don't forget to ask your employees – if you have any – to update the greetings for their extensions.
Step 5. Change Your "On Hold" Music
On hold music is a great way to keep callers happy and engaged while on hold. With Grasshopper, you can choose from several available music selections or upload your own custom music. Alternatively, you might want to use an on hold commercial, i.e. an advertisement for your business, such as a promotion for an upcoming sale.
In your Grasshopper account settings, "SystemMusic" is set by default. Simply click "Change Music" to upload your own on hold music.

According to an AT&T study, more than 70% of business calls are placed on hold for an average of 45 seconds each. Furthermore, callers left on hold without any background music felt that a 30-second on-hold call actually lasted 90 seconds, while callers left on hold with music thought it lasted only 15 seconds.
Interestingly, North American Telecom research has found that callers with silence on hold will abandon a call in less than a minute, callers with music will stay on the line for 30 seconds longer than silence, and callers given a commercial or other information to listen to will stay on hold for up to 3 minutes longer.
What does this mean? Whether you choose on hold music or a commercial, the goal is to warp the caller's perception of time. After all, no one actually likes being on hold. So choose music that's engaging and entertaining.
Or, better yet, create a commercial for callers on hold that prompts them to take action and make a purchase.
Step 6. Call Your New Number and Make Sure it Works
With your new business phone number set up and ready to go, the last thing you'll want to do is test it. So dial your number and pay attention to the user experience. Listen to the greetings, extension information and on hold music/commercial. Do your greetings sound professional? Are they easy to understand?
You might want to get a second opinion, so share your number with a trusted friend or colleague and ask them to call you. This way, you can test how to use the Grasshopper app on your phone and ensure you understand how to properly and confidently use it.
As time goes by, it's a good idea to test your number every few months to ensure your greetings are relevant and forwarding to the right people in your business. Routinely checking your on hold music or commercial will also ensure you're pushing up-to-date and relevant promotions and not missing any potential customers who might think your on hold information is outdated and irrelevant and hang up.
Conclusion
Getting a business phone number couldn't be easier or more affordable thanks to virtual phone systems like Grasshopper. It's important to consider the pros and cons for your business of setting up a toll-free, vanity number or local number, and working out which features are going to support your business as it grows in the long-term. This might include extensions, customizable greetings, and – as a next step – getting an auto-receptionist.
Don't forget to regularly test your number and update greetings, extensions and what callers hear when they are on hold. Once you're confident using your new number, you're ready to start promoting it!