A2 Hosting Review + Coupon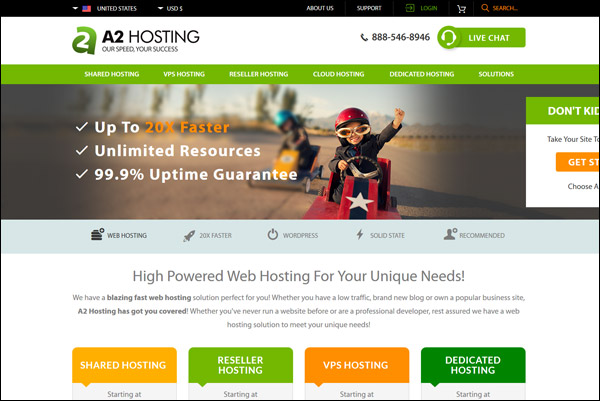 Overall Score:A2 Hosting
4.8 stars
Based on a 5 Star Rating System
| | |
| --- | --- |
| Tech Support | |
| Speed | |
| Reliability | |
| Price | |
| Ease of Use | |
30 day money-back guarantee!
Whether your project requires Linux or Windows platform support, A2 Hosting is one of the best choices for advanced web development when compared to any of the major web hosting companies. A2 Hosting's servers currently support Apache (2.2), MySQL (5.6), PHP (5.3-5.6 & 7.0), Python (2.6-3.2), PERL (5.10), PostgreSQL (9.4), ASP.net (2.x- 4.x), and Node.js. SSH access is included on all accounts, for use with Git, Subversion, CVS, WP-CLI, Mercurial, Rsync, & Drush. For those who need more options for programming web and mobile applications, A2 Hosting's VPS and dedicated server plans can be configured with custom extensions like HHVM, Nginx, Varnish Cache, & MongoDB. The "Turbo" plans at A2 Hosting provide up to 20x better performance than a standard Apache server, with more RAM and dedicated CPU resources than available on other shared hosting plans, including integrated website page caching optimization with APC, OPcache, and Memcached.
Some key features of A2 Hosting:
Independent web hosting company focused on maintaining high-performance servers
Leads in implementing advanced support for web standards & programming languages
Large number of options for operating system installation on VPS & dedicated server plans
Hosting's uptime fluctuated between 99.99-100% almost throughout the whole year
Scales server resources on shared hosting plans so you receive more RAM, CPU, & storage
Turbo plans include 80% less domains on each server instance for better website performance
Options for managed, unmanaged, & cloud VPS plans with 3 different virtualization frameworks
Easy to use domain name and server administration with cPanel (Linux) & Plesk (Windows)
Reseller plans run on CloudLinux with free cPanel, WHMCS, & eNom licenses provided
A2 Hosting offers a free site migration service that will transfer all of your website files and database information to a company server when you sign up for a new web hosting plan. Most website owners running CMS scripts on shared hosting plans need more RAM and CPU processing resources for complex database queries, dynamic content views, and PHP code requirements. CMS websites also perform much better when using advanced page caching with HTML & CSS compression. A2 Hosting has optimized their server environments across most accounts to provide various levels of support for CMS script requirements. Site owners, programmers, and developers who want the most freedom to customize the server environment have even more options with A2 Hosting's cloud servers, unmanaged VPS, and dedicated server platforms. New customers receive as much as a 50% discount on hosting plans at A2 Hosting. You can also use our 2017 coupon when signing up for an even better deal.
Everything You Need to Know About A2 Hosting
A2 Hosting is a "developer friendly" web hosting company that takes pride in leading the implementation of the latest web standards and support for the newest versions of programming languages. The company offers shared hosting on both Linux and Windows platforms, as well as a wide variety of VPS and dedicated server plans with the ability to custom configure the OS and hardware.
SERVICES OFFERED: Shared Linux Hosting, Shared Windows Hosting, Managed/Unmanaged VPS Hosting, Cloud VPS Hosting, Reseller Hosting, & Dedicated Servers
PRICE RANGE: $3.92 to $169.99
PAYMENT: Credit Card, PayPal, Check or Money Order, Bank Transfer, Skrill, UnionPay, and PayU Latam
MONEY-BACK GUARANTEE: 7 to 30 days + "anytime" on pre-paid accounts
SERVER LOCATIONS: United States (Michigan), Europe (Amsterdam), and Asia (Singapore)
CUSTOMER SUPPORT: Phone, Live Chat, & Issue Ticket System
A2 Hosting uses scaled resource allocation on their shared hosting accounts, meaning that you will receive more RAM and dedicated CPU processing power on higher tiered plans. It only costs $1 more per month to upgrade a shared account from a single website to unlimited domains. Linux hosting plans use cPanel for server administration, while Windows plans use Plesk. You can choose a custom operating system from snapshots (CentOS, CloudLinux, Fedora, Slackware, Debian, Gentoo, Ubuntu, FreeBSD, & Windows) on many of their VPS and dedicated server hosting plans.
SHARED LINUX HOSTING PLANS:
| Plan Name: | # of Sites: | RAM: | Storage/Transfer: | Price: |
| --- | --- | --- | --- | --- |
| Lite | 1 | 500 MB / 4 GB | Unlimited | $3.92/mo |
| Swift | Unlimited | 1 GB / 8 GB | Unlimited | $4.90/mo |
| Turbo | Unlimited | 2 GB / 8 GB | Unlimited | $9.31/mo |
A2 Hosting's shared Linux plans offer more physical and virtual RAM on accounts than other companies, which can lead to better performance on CMS sites with complex database and PHP code requirements.
SHARED WINDOWS HOSTING PLANS:
| Plan Name: | # of Sites: | RAM: | Storage/Transfer: | Price: |
| --- | --- | --- | --- | --- |
| Lite | 1 | 500 MB / 4 GB | Unlimited | $4.90/mo |
| Swift | Unlimited | 1 GB / 8 GB | Unlimited | $5.88/mo |
| Turbo | Unlimited | 2 GB / 8 GB | Unlimited | $10.78/mo |
A2 Hosting's shared Windows plans support ASP.net (2.x- 4.x), Microsoft SQL Server (2014), Windows Server (2012), MySQL (5.6), PHP (5.3-7.0), Access Database, Classic ASP, MVC (4/5), and Silverlight (4/5).
UNMANAGED VPS HOSTING PLANS:
| Plan Name: | RAM: | Storage: | Transfer: | Price: |
| --- | --- | --- | --- | --- |
| Entry | 512 MB | 20 GB | 2 TB | $5.00/mo |
| Mid | 1 GB | 30 GB | 2 TB | $10.00/mo |
| Top | 1 GB | 50 GB | 2 TB | $15.00/mo |
The prices on A2 Hosting's unmanaged VPS plans reflect the minimum system hardware configuration, to which you can add more RAM, CPU cores, SSD storage, and data transfer at fixed monthly costs.
MANAGED VPS HOSTING PLANS:
| Plan Name: | RAM: | Storage: | Transfer: | Price: |
| --- | --- | --- | --- | --- |
| Power+ | 4 GB | 75 GB | 2 TB | $32.99/mo |
| Prestige+ | 6 GB | 100 GB | 3 TB | $46.19/mo |
| Pinnacle+ | 8 GB | 150 GB | 4 TB | $65.99/mo |
The managed VPS platform at A2 Hosting runs on CentOS and cPanel, where company systems administrators at the data center will maintain all of the security updates over the life of the plan.
CLOUD VPS HOSTING PLANS:
| Plan Name: | RAM: | Storage: | Transfer: | Price: |
| --- | --- | --- | --- | --- |
| Start | 4 GB | 60 GB | 2 TB | $15.00/mo |
| Median | 6 GB | 130 GB | 3 TB | $20.00/mo |
| Ace | 8 GB | 200 GB | 4 TB | $25.00/mo |
A2 Hosting's cloud VPS platform runs on CloudStack virtualization software with KVM and includes the ability to install CentOS, Debian, Fedora, FreeBSD, Slackware, Ubuntu, or Gentoo on any service plan.
RESELLER HOSTING PLANS:
| Plan Name: | # of Accounts: | Storage: | Transfer: | Price: |
| --- | --- | --- | --- | --- |
| Bronze | 40 | 30 GB | 400 GB | $13.19/mo |
| Silver | 60 | 75 GB | 600 GB | $18.47/mo |
| Gold | 80 | 150 GB | 1 TB | $24.41/mo |
| Platinum | 100 | 200 GB | 2 TB | $40.91/mo |
Web design companies, freelancers, graphic artists, & social media marketers can all take advantage of A2 Hosting's reseller plans to bill clients for "white label" web hosting and domain registration services.
DEDICATED HOSTING PLANS:
| Plan Name: | CPU: | RAM: | Storage: | Price: |
| --- | --- | --- | --- | --- |
| Semi Dedicated Server | Dual-core (2.1 GHz) | 8 GB | Unlimited | $9.31/mo |
| Unmanaged Flex Server | Dual-core (3.1+ GHz) | 8 GB | 2×500 GB | $99.59/mo |
| Managed Flex Server | Dual-core (3.1+ GHz) | 8 GB | 2×500 GB | $141.09/mo |
| Core Flex Server | Dual-core (3.1+ GHz) | 8 GB | 2×500 GB | $141.09/mo |
Dedicated server plans at A2 Hosting start with a base hardware configuration to which you can add more RAM, storage, and CPU upgrades to create a custom package to support any website application.
A2 Hosting has a "no nonsense" pricing structure which eschews many of the schemes practiced by other web hosting companies which offer large introductory discounts but overcharge on renewal fees. They also allow a great deal of flexibility in custom configuring the hardware on VPS and dedicated server plans. You can still get over 50% discounts on many of the web hosting plans when signing up for a new account and lock into premium hardware at great rates over the course of a 1 to 3 year contract.
A2 Hosting offers a 30 day unconditional money-back guarantee if you are not satisfied for any reason with the quality of their services. For pre-paid accounts, they offer a further "anytime" guarantee where you can still cancel your account after 30 days and receive a pro-rated refund of the remaining balance. However, they will not honor discount coupons on the refund after the first 30 days have elapsed.
A2 Hosting only permits a 7 day refund period on SSL/TLS certificates. They will not issue any refunds whatsoever for domain name registration costs, account set up fees, or website migrations. Any advance payments made by check or money order will also not be able to be refunded.
7 DAY MONEY BACK GUARANTEE on SSL/TLS certificates.
30 DAY MONEY BACK GUARANTEE for a full refund on all web hosting services.
ANYTIME MONEY BACK GUARANTEE on all prepaid accounts.
NO REFUNDS on domain name registrations, account set-up and migration fees.
A2 Hosting manages three primary data centers for its customer operations. The first is an independent facility targeting the North American market from Michigan, related to the company's headquarters in Ann Arbor. The second is an Equinix facility in Amsterdam, which serves the European Union and UK regions. The third is located in an Equinix data center hub in Singapore for web traffic in Asia. Clients can host their shared web hosting sites, reseller accounts, or VPS domains in any of these locations.
DATA CENTER LOCATION #1: United States – Michigan
DATA CENTER LOCATION #2: Europe – Amsterdam
DATA CENTER LOCATION #2: Asia – Singapore
All of the A2 Hosting data centers are world-class, with Level (3), Savvis, Global Crossing, and Cogent Communications currently used as service providers for the fiber-optic "internet backbone" connections. The Amsterdam data center hosts over 1000 ISPs, telecommunications carriers, content providers, and hosting services in the same facility. The Singapore data center is located in one of the most network-dense buildings in Asia, with connections to 190+ internet service providers and 475+ IT companies.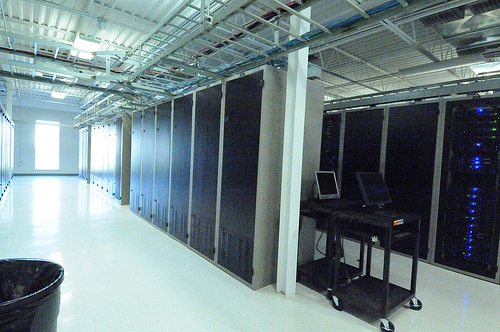 A2 Hosting's hardware is primarily based on rackmount servers with Intel Core i3 and Xeon E5 CPUs, ranging from dual-core to 12-core units, with DDR-3 RAM, and a choice between HDD & SSD storage.
A2 Hosting uses dynamic resource routing of web traffic in the data center along with implementation of HTTP/2, Websocket, ESI, SPDY, APC, Memcached, Railgun, and Anycast DNS to improve network speeds and page load times for websites, optimizing their servers for the best overall system performance.
A2 Hosting's "24/7 Guru Crew Support team" relies primarily on an issue ticket system for customer support requests, with toll free phone lines, Skype, and a live chat service also available. The company maintains a helpful knowledge base online with articles, tutorials, and user guides that can help navigate the hosting service or debug web development issues. A2 Hosting has recently launched a video library with technical information on their blog and maintains an active YouTube channel for customer support.
Prospective customers can email the sales department using the contact form on the website. The live chat service and phone departments will also address billing and sales related questions. Monitor the A2 Hosting blog, Twitter account, and network status page for more information on service issues.
PHONE SUPPORT: A2 Hosting has a number of different phone lines for customer support that are targeted to their regional markets. Customers in the USA and Canada can call the company toll free at 1 888-LINUX-HOST (+1 888-546-8946) to speak with an account representative about billing or technical support issues. Alternatively, you can use Skype by direct dialing the user ID: a2hosting.support. You can also fax A2 Hosting with customer support questions at: 1-734-527-6565.
LIVE CHAT: Use the link above the main menu on the website to launch a live chat session.
EMAIL TICKET SUPPORT: Registered customers can use the issue ticket system to submit questions to the company about billing or technical support issues by clicking on the "Open Ticket" link in the AMP menu.
KNOWLEDGEBASE: A2 Hosting has a growing number of technical support articles available in their knowledge base, primarily user guides, tutorials, and FAQ pages to help with configuration settings and web development issues. You can search the archive from the "KB" section.
VIDEO LIBRARY: A2 Hosting has recently added a video library to their blog. For more detailed information, including helpful tutorials, follow their YouTube channel at A2HostingHelp.
FORUM SUPPORT: The company has a community Q&A portal with responses to questions within 1 hour.

Customer Reviews
Have your own comment about this web host? Write a review and tell us!
[wppr_reviews]
Sorry, there are no customer reviews yet for this web host.
A2 Hosting Coupon/Discount
[visit link="/signup/a2-hosting-discount"]As promised, here's a current coupon to help you save up to 50% off![/visit]