5 Best Website Builders of 2021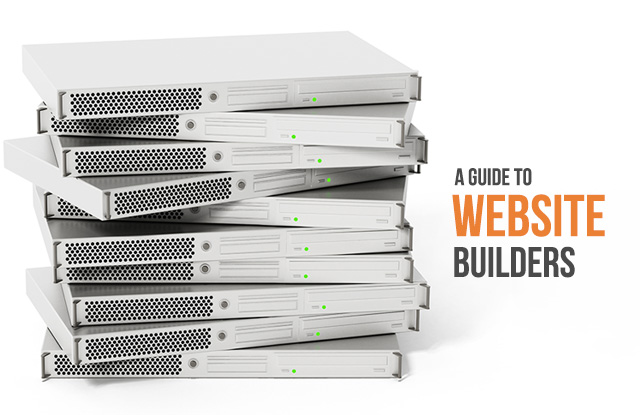 Website builders have become increasing popular because they significantly cut down the learning curve traditionally required to create a website and is an all-in-one package (includes web hosting and a domain name) for you. Most website builders provide a drag and drop interface for users whereas traditional web design involved a great deal of coding and a much longer process that the average person would not understand. Listed below, is our top favorite list of all the best website builders we would highly recommend. Each one has its own strengths and weaknesses so feel free to choose whichever best suits your needs.
Our Top 5 Favorite Website Builders:
| Website Builder: | Starts at: | Free Trial: | Recommended For: |
| --- | --- | --- | --- |
| Wix | $14.00/mo | Yes | Complete customization & beginner friendly |
| SiteBuilder | $9.95/mo | Yes | Creating Simple Website Easily and Quickly |
| HostGator | $3.84/mo | No | Powerful & reliable website builder |
| BoldGrid | $4.99/mo | No | Professional features & power of WordPress |
| Weebly | $6.00/mo | Yes | Creating a reliable website quickly |
1. Wix – Best for Complete Customization & a User-Friendly Experience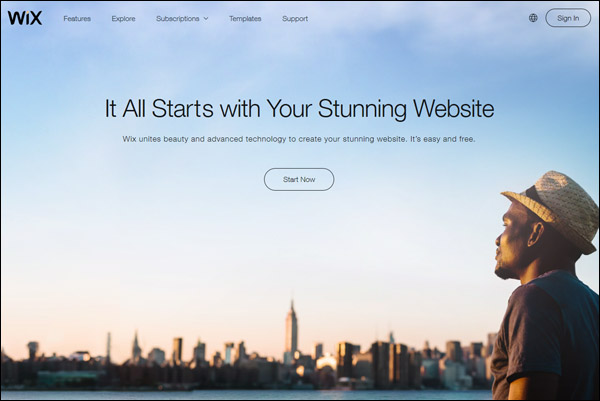 Wix is one of the most intuitive and easy to use website builders available on the market. It is also arguably the most popular drag and drag website builder, boasting over 90 million users and 45,000 new sign ups every day, on average. It is a good platform for small businesses and individuals who wish to build a customized and professional-looking website relatively quickly. They have an extensive App Market and recently improved their URLs to make them cleaner and semantic. Along with those benefits, this platform also offers a wide variety of templates to choose from in over 70 different categories and it has a good eCommerce solution which allows users to create online stores. Wix is suitable for web design beginners who want an all-in-one, managed solution that makes the process of creating a website as simple as possible. Wix has a free plan but it does not look professional so you will more than likely upgrade to one of their premium plans which range from $5 to $25 per month. Vist Wix
2. SiteBuilder – Best for Creating Your Own Website Easily and Quickly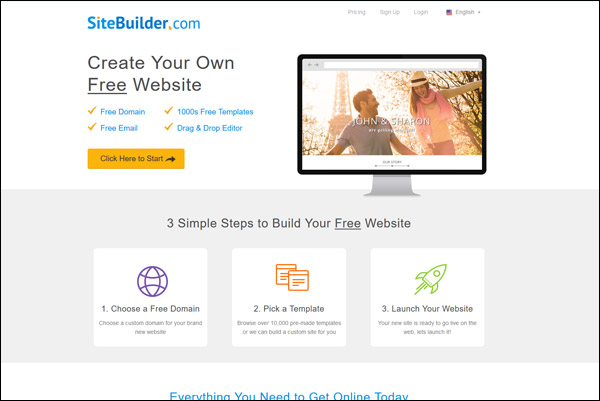 SiteBuilder is one of the most user-friendly website builders on the market, partly because they make it so simple with their 3-step system to create a new website. There is no coding required so even someone who is completely new to web design will be able to navigate this website builder. They offer a wide variety of mobile-friendly/responsive templates and a powerful website editor that will allow you to fully customize your website nicely. You also have the capability of creating an eCommerce store with this platform. SiteBuilder does offer a free plan but with that, you won't be able to add a custom domain. For a more complete and impressive website, it would be best to choose one their premium plans which range from $8.99 to $11.99 per month when billed annually. SiteBuilder is best suited for beginners, personal websites, and new business owners because of how easy it is to get started. Visit SiteBuilder
3. Hostgator Website Builder – Best for Creating a Reliable Website Quickly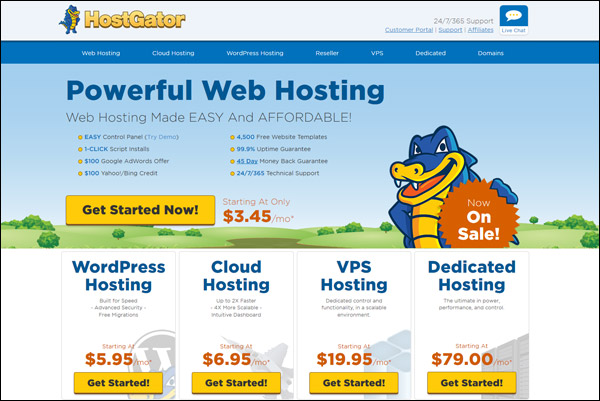 Hostgator is best known for being one of the leading web hosting providers on the market but they also have a drag and drop website builder that is now available. Even though its template selection is significantly smaller than what most website builders offer, all Hostgator's templates are modern and automatically responsive/mobile-friendly. This website builder also has eCommerce capabilities, great SEO tools and Google Analytics, among other features. Hostgator guarantees 99.9% uptime and 24/7 customer support available via phone email or live chat. It is reliable and this website builder is impressive especially for all the benefits that come with it. In regards to pricing, the Basic plan is free with any web hosting package but the Pro and Business plans are $6.99 and $15.99 respectively. Visit HostGator
4. BoldGrid – The Most Powerful Website Builder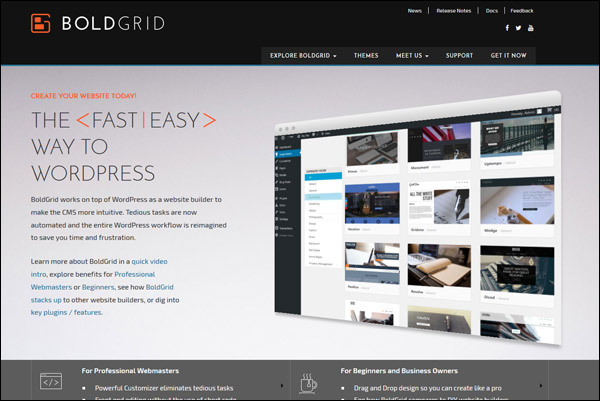 WordPress is one of the best platforms in the world for creating websites. It is powerful, functional, and is used by some of the biggest websites in the world. Data shows that 25% or more of the websites on the internet today have been built with WordPress. In actuality, it is a content management system (CMS) that web designers could add plugins to, in order to customize their websites. This process tends to be daunting and too technical for most beginners. BoldGrid was created by InMotion Hosting to make WordPress web design process much simpler. BoldGrid is essentially a combination of multiple plugins working together on top of WordPress to make it more user-friendly. With BoldGrid users can use the drag and drop feature to fully customize their WordPress website without the need for coding. The combination of BoldGrid and WordPress makes this the most powerful website builder available today. BoldGrid is a free software but it is only available through InMotion Hosting or Web Hosting Hub which starts at $4.99 per month. Visit BoldGrid
5. Weebly – Best for Personal Websites and eCommerce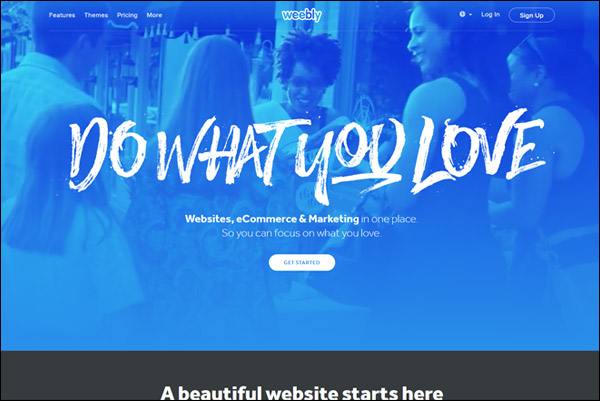 Weebly is a website builder that is well known for its eCommerce and blogging capabilities. The sign-up process is simple and it is easy to navigate around the dashboard, but the website editor is not as user-friendly as Wix. It may be challenging for a beginner but once learned, it becomes easier to use. The template selection is not as great as that of other website builders but on the upside, Weebly does allow you to edit the CSS/HTML codes of your template which offers an even greater level of customization if you know how to use it. Weebly is best suited for those wanting a relatively simple eCommerce store, website or blog. Weebly's pricing ranges from $8.00 per month to $49.00 per month which is a bit pricey in comparison to its competitors, but the functionality and features that come with each plan are quite impressive. Visit Weebly
Which Website Builder Should You Use?
Most of the website builders that we mentioned here are free to sign up and the ones that aren't free offer at minimum, a 30-day money back guarantee, so there is really no risk in trying them out. Your personal experience along with the information that you have gotten here will help you make the right choice.
Even though some website builders offer a free plan, that often comes with ads on your website and having a subdomain. We encourage you to upgrade from those free plans to one that allows you create a clean website with your own custom domain. This is especially important for small business owners.
Remember, website builders were created to make the web design process simple and intuitive, so even if you are a complete beginner, we are certain that you will find one that matches your style and skill level, allowing you to create the website that you envision.