Where to Find Good Freelance Website Designers & Developers
You've made the decision to hire a professional web designer or developer, allowing you to focus on the other high level aspects of your business. But averting the challenge of building a website yourself brings with it a whole new challenge: How do you find and hire the right talent for the job?
Discovering a worthy web designer or developer can become a needle-in-a-haystack dilemma when almost any person—or agency, for that matter—can claim to be an expert. While the hunt for the right freelancer may seem daunting at first, it becomes a more manageable and streamlined approach when you first know where to look.
Having been on both sides of the table, as both freelancer and employer, we have learned through experience how a job search portal should best serve the hiring process. To make things easier for you, we've sifted through the resources out there and curated our top picks of where to hire the best freelance web designers and developers.
The Best Places to Find Freelance Web Designers & Developers
Based on factors including size and selection of worldwide talent, portfolio review and candidate screening, communication and project management tools, and payment management, here are our top choices for finding the talent you need:
1. Toptal – Overall Top Choice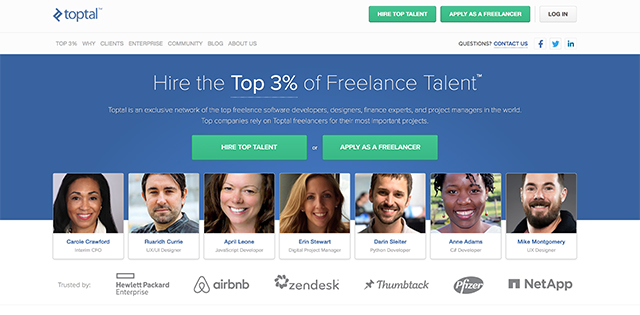 For the absolute cream of the crop, thoroughly vetted and risk-free freelancers for hire, Toptal soars above the rest. This is because all designers and developers on the Toptal platform must undergo a rigorous screening process where their technical proficiency is reviewed, as well as their English language skills, personality, and real-world job success.
Toptal makes it a prominent point to declare that only the top 3% of talent in the world makes the cut. Rest assured that the freelancers you hire on this platform will get the job done—on budget, on time, and without complication.
Even more comforting to know, Toptal offers a risk-free trial where you are allowed a brief period to determine whether your chosen freelancer is satisfactory. If they're not, you don't pay for their work.
When to Use Toptal
For the best results with Toptal, it's important to assess the scope and needs of your project first. For quick, relatively simple tasks or for smaller budgets, Toptal won't necessarily be the right choice. The platform is mainly designed to bring together a team of designers, developers, and managers to tackle more complex and long-term projects.
If you're a medium to large business with hefty website needs, then Toptal is an excellent alternative to the more traditional route of hiring an expensive agency. The no-risk trial and guarantee of satisfaction make this our top pick for finding talented and dependable freelancers online.
Why Toptal?
Best for long-term or complex projects
The top 3% freelancers in the world
Find both web designers and developers, as well as project managers
No initial fee
Risk-free
Satisfaction guarantee
No bidding
High quality results
2. Upwork – Options Galore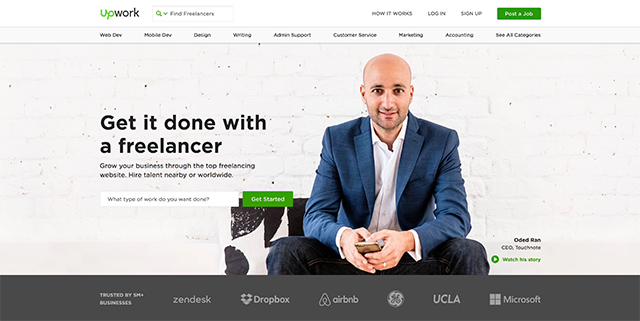 Upwork has certainly evolved in recent years, growing into the largest online freelancing platform there is, with twelve million currently registered freelancers. As a result of all this massive growth, Upwork has completely rewritten the freelancing rulebook, making it easier than ever to hire talent across the globe.
Upwork is a bidding platform, which means dozens of freelancers will vie for your approval as they submit their own cover letters, proposed rates, and estimates of when the project will be finished.
This is a great arrangement if you're looking to cast a wide net and then whittle down your top choices. You may even find the perfect candidate willing to do the job for less money than you expected to pay, as some freelancers in predominantly Asian countries will work just as efficiently but for lower rates.
Although many employers flock to Upwork with the intention of finding the greatest bargain, it's worth pointing out that there are still plenty of highly skilled professionals on the platform. Fortunately, Upwork has some systems in place to help make it more obvious who these real star candidates are.
Based on a number of factors from previous jobs, a freelancer's Job Success Score serves as a quick indication of how well they'll perform for you. A full history of client feedback also provides direct evidence of how things turned out with their last jobs.
Speaking from experience, however, the above two indicators should not be your deciding factors of a freelancer's worthiness. The best way to judge a good working relationship would be to first hire the freelancer for a paid trial job to complete a small task. If it goes poorly, then think of it as a small investment made in order to avoid a potentially disastrous expense later.
When to Use Upwork
Upwork is an enticing option for just about any type of remote work, regardless of project scope. Whether seeking the best price, or searching for the most skilled candidates, it's very likely you'll find what you need on the platform.
Where Upwork excels though is how it serves as a one-stop shop for everything your online business requires. Designers and developers are in (excessive) abundance, but you can also find and hire project managers, administrative assistants, and highly skilled copywriters for keeping your website updated with relevant and shareable content.
Getting started is an easy and fast process—and it's also free for employers!
Why Upwork?
Free to create a basic account and start hiring.
Network of freelancers is unrivaled in number.
Escrow system ensures payment is handled fairly.
A time management app records your freelancer's activity on hourly jobs.
Feedback and rating system helps narrow down candidates.
Good for projects of any size.
Can hire web designers, developers, and also copywriters and marketing experts.
3. 99designs – Perfect for Designers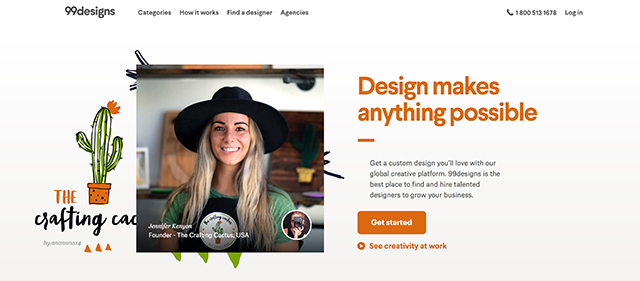 99designs is a freelancing platform designed for one specific purpose: finding the perfect graphic or web designer (no coders here!). It's a fast and easy turnaround from the moment you post your job on the platform to having a finished design in your possession.
99designs is a massive freelancer marketplace, featuring many of the same useful features as Upwork. A secure payment platform, a worldwide talent network, freelancer reviews and client testimonials all make it a streamlined process to fulfill your design needs. Unlike Upwork, however, 99designs uses a very unorthodox approach to narrow down candidates.
Rather than review a bunch of cover letters and portfolios as you try to guess who might actually be the best for the job, with 99designs your prospective freelancers will actually submit custom designs for the job upfront. It's then up to you to decide whose design wins. You pay only for the designs you like; if nothing rocks your boat, then you don't pay anything.
This competitive approach to hiring certainly alleviates any financial risk on your part. It also conveniently acts as a free trial run for freelancers you'd like to test the waters with first; their upfront design work already gives you a real-world sense of their abilities within the context of your needs.
When to Use 99designs
As mentioned earlier, you won't find any developers on this platform—but if it's design work you need, then 99designs is a great place to turn.
Pretty much any type of design can be outsourced from the platform, from logos to websites to apps to merchandise to print material. While it's perhaps easiest to utilize the platform for smaller, one-time design jobs, there is also a Pro Service, which connects you with a hiring manager to find the perfect designer for long-term or recurring jobs.
Why 99designs?
Review custom designs immediately
Worldwide freelancing network
Secure payment platform
Flexible pricing
Only pay for the designs you choose
Great for logos
4. Codeable – Best Resource for WordPress Developers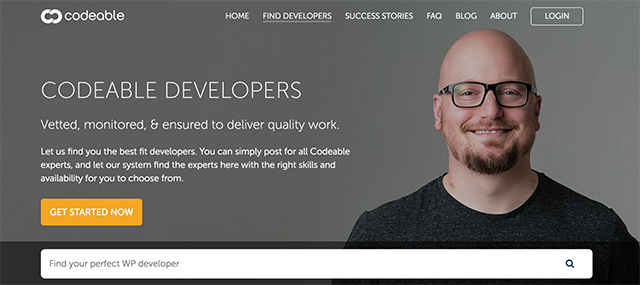 It can be a monumental task to find a good web developer, let alone one who is an expert in WordPress and WooCommerce customization. Codeable makes this search a guaranteed success in a way that the uncertainty and riskiness of Upwork simply can't provide.
Once you have all the design assets for your website ready, putting the pieces together into functional code becomes a breeze with the right developer on your side. Using Codeable to find a reliable, proven WordPress developer is a no brainer.
Why Codeable?
Handpicked developers
Fair and accurate pricing
Money back guarantee
Escrow system in place
Top choice for WordPress and WooCommerce
Highly skilled and pre-screened candidates
5. Wix Arena – Picking Wix Experts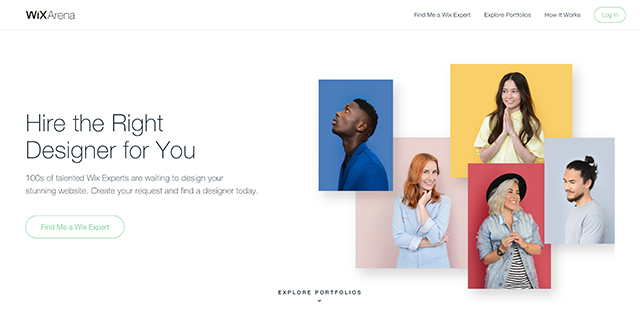 We're big fans of Wix, the drag-and-drop website builder for DIYer entrepreneurs. So if you've decided to host your website through the Wix platform, but you've found you need expert assistance getting it up and running, then hiring a freelancer through the Wix Arena is a strong option to consider.
Unlike the other platforms listed above, the Wix Arena obviously serves a very specific niche (only Wix websites), and, unlike the other platforms, it is largely a hands-off service.
The marketplace is meant only to connect you with talented Wix designers by searching through their portfolios and reviews—all communication, payment, deliverables, and disputes must be handled between you and the freelancer independently. Wix has no direct involvement in user-to-user terms of service.
While this may be off-putting to some, Wix Arena should be considered more of a traditional hiring platform than the all-inclusive project management services like Toptal or Upwork.
Not just anyone can join the Wix Arena as a designer, however. Freelancers must submit six Premium websites they've completed for other users; Wix then reviews the quality of the portfolio before the designer is invited to join the network.
It's easy to search through the Wix Arena portfolios yourself. When you find one you like, simply reach out to the freelancer to begin the process of working together. Or you can create a request and Wix will handpick six designers for you that they feel best matches your needs.
When to Use Wix Arena
It probably goes without saying, but the first prerequisite for going this route is to have already decided on the Wix platform for your website. While we believe Wix is an intuitive and easy DIY website builder on its own, we also understand that not every user has the time or technical proficiency to get their website initially built. For this reason, outsourcing a Wix specialist is a wise investment to make.
Why Wix Arena?
Generally less expensive
For less complicated projects
International talent pool
Browse and pick talent
Platform is easy to make updates yourself
6. Shopify Experts – eCommerce Made Easy
Another niche marketplace, Shopify Experts is a great option for businesses who rely on the popular ecommerce platform to generate revenue.
Although Shopify is an outstanding choice for non-technical DIYers due to tis simplistic interface and usability, it may be worth calling in the experts when it's time to integrate more advanced features or additional content.
The Shopify Experts marketplace offers a wide range of services, starting with the obligatory design and development of new or existing storefronts, but also offering branding and marketing services, content writing, 3D product modeling, and photography.
While Shopify vets each freelancer before they're allowed on the platform—and you can review customer ratings and testimonials along with their portfolio—it is primarily, like Wix Arena, a user-to-user affair. All payment plans, project management, and client satisfaction must be handled independently between the two parties.
When to Use Shopify Experts
If you're currently using Shopify or plan to use it as for your online store, then chances are at some point you'll require the services of a Shopify Expert.
Although most anyone can get a Shopify store up and running, adding more advanced functionality is something best left to a specialized developer. That's not even to mention how much further your business can grow with the right marketing, branding, and content expertise that can be found within this marketplace.
To build an online store that's geared for success, Shopify Experts should be your first place to look.
Why Shopify Experts?
Browse and pick talent
Variety of services available
Platform is DIY-friendly
Vetted talent from around the world
Review freelancer ratings and testimonials
Alternative Options – Go Local
Even in this digital age where anything can be accomplished online, there are still circumstances where hiring local might be the preferred option. Certain community-driven businesses may benefit from the in-person relationship with a freelancer, particularly when working with designers, as their work can be influenced by the more intimate connection with your brand and personality.
The process of finding the right local freelancer could begin just as you would find anything else, through a Google search. A query for "[your town name] web designer" or "[your town name] web developer" will likely return the most popular agencies or freelancers in your area. From there it's just a matter of scoping out their portfolios and any customer testimonials, if they exist.
However, when working with freelancers, you will likely find that trustworthiness trumps portfolio and credentials. Knowing for certain that the person you hire is reliable and easy to work is often the major deciding factor when choosing a freelancer—and the surest way to gain this trust is through personal recommendations.
Ask your closest associates if they know of any reliable web designers or developers in the area. Look at any impressive websites of businesses or friends in your network and research who was behind them.
If no one in your immediate circle has the answers you need, then you can always expand your network. Attending Meetups that bring together other businesses similar to yours could help connect you with the right web professional. Also consider joining a BNI group, where different businesses come together to help solve each other's needs through referrals.
Web Designer VS Web Developer
Before you decide who you're going to hire to build your website, you first need to determine what type of service you need. Website creation is divided into two separate disciplines: Design and Development. An expert in one may not always thrive in the other.
A web designer is responsible for the visual makeup of your entire website, creating the images and graphics as well as the layout of every page.
Their primary focus is spent on aesthetics, so web designers do not typically possess the advanced coding skills that a developer has. However, a good web designer should have adequate knowledge of at least HTML and CSS so that their designs knowingly work within the limitations and medium of the web.
On the other side of the coin is the web developer, who takes the static designs that are already created and codes them into a dynamic and functional website.
Web developers are usually called in to build more complex websites outside the realm of drag-and-drop builders like Wix (although they can also expand the functionality of these types of sites too). If your website requires the need for any special JavaScript plugins or advanced security measures, then you'll need the services of a web developer.
Specialists of Web Development
A front-end developer is in charge of everything the user sees and interacts with. They will have an advanced knowledge of HTML, CSS, JavaScript and jQuery to build user interfaces. Some front-end developers even double as designers, complementing their coding skills with experience in Adobe Photoshop and Illustrator.
Back-end developers build the unseen bones of a website, implementing and maintaining frameworks, user databases, security, APIs, and so on. They could be masters of many different programming languages, including Java, Python, Ruby, PHP, SQL, or C#.
Finally, a full-stack developer is one who has learned both the front-end and back-end side of web development. Besides simplifying your hiring process, the main advantage of a full-stack developer is that they possess both the vision of how your website should exist and the ability to execute that vision into a reality.
Pro Tip:
Can you find one freelancer who is capable of both exceptional design and water-tight development? It's possible—but perhaps not recommended. Beautiful, clean design and complex database management are two very different disciplines; time spent mastering one will usually only divert focus from the other.
Pick the right tool for the job. Don't invest in a Swiss Army knife when what you really need is a hammer.
Tips for Hiring a Web Designer or Developer
Now that you know which type of freelancer you need and where to find them, here are some quick guidelines that will help with your hiring process:
Be As Detailed As Possible
Attracting the right candidate starts with posting the right job description. By being as detailed and clear as possible up front about what you need, when you need it, and within what budget, you will get the project rolling with far greater clarity and less friction.
Provide whatever you can to help your prospective freelancer solve your need. Include mockups to design ideas or links to websites you'd like to replicate. The more you define your expectations, the quicker your freelancer will be able to meet them.
Don't Underestimate People Skills
Sure, that WordPress developer has an impressive résumé—but how are they at communicating? Are they responsive to emails? Do they speak clearly?
People skills can be just as important as technical skills, if not more. When your hiring decision comes down to a dozen candidates all with the same skill level, pay attention to how your interactions with each candidate feels. Who is the easiest, most pleasant one to communicate with?
The best work is often the result of a great relationship.
Fixed Rate VS Hourly Rate
When hiring on Upwork or laying the parameters of a private contract with a freelancer, you will be faced with the decision to pay by the hour or offer a flat rate to cover project milestones. The option you choose will typically come down to two factors: the project's size and the freelancer's level of expertise.
Smaller projects are usually best suited to an hourly rate. Experienced freelancers are highly efficient, so although they command premium prices, their work is accomplished quickly and generally without hitch.
Less experienced freelancers, however, are better suited to a fixed rate arrangement. Their rates may be lower, but they will spend far more time working on a project—and they'll typically require several revisions before hitting a final iteration.
Regardless of skill level, larger projects will almost always benefit from a fixed rate contract. A lot can—and will—happen during the process of building a website. Bugs and glitches will crop up, revisions will need to be made, and frequently more effort is required than expected.
A fixed rate will protect you from any of these time-consuming complications that may arise. Just be sure that the freelancer's work is properly and fairly outlined in your job agreement. Most contracts will outline a certain number of revisions allowed before the freelancer charges additional rates. Again, this is another reason why it's important to be specific and clear about project expectations from the beginning.
Don't Use Craigslist
If you're a small business, your first inclination may be to send out a call for local talent using a free job board such as Craigslist.
This is a mistake.
Firstly, when you crack open the door and invite the online world to compete for your business, you are essentially opening the floodgates for every man, beast, or spam bot out there to rush in and implode your inbox.
While you may assume that posting a job within the local directory will keep candidates in close proximity, many are surprised and overwhelmed by the massive influx of freelancers from even as far as China and India who use keyword alerts in their job hunting pursuits. Many of these candidates will not understand or even read the job description you've posted, which will only cause frustration and wasted time for you.
More importantly, free job portals like Craigslist lack any sort of pre-screening process to help determine who is the right fit for the job. Without a rating system, client reviews, or job history attached to the freelancer's profile, it's anyone's guess how they might realistically satisfy the job requirements.
Do not be tempted by the free cost or how quickly you can get a job posted; relying on Craigslist to find a freelancer is a risky hiring method that could potentially cost your business thousands of dollars. Avoid the trouble by using one of the better options listed above.
Conclusion
Finding a web designer or developer doesn't have to be an overwhelming process. With the introduction of several online freelancing portals, acquiring the perfect candidate can be easily done for just about any type of project, budget, or timeline.
We hope our list of trusted resources above will start you on the right track. Compare the advantages of each of them, follow our recommended guidelines, and the website of your dreams can be yours!