Bluehost Review + Coupon
Overall Score:Bluehost
4.5 stars
Based on a 5 Star Rating System
| | |
| --- | --- |
| Tech Support | |
| Speed | |
| Reliability | |
| Price | |
| Ease of Use | |
30 day money-back guarantee!
Bluehost is one of the oldest and most highly awarded web hosting companies in the industry. Founded in 2003, Bluehost has introduced many innovations in the development of their shared Linux hosting platform with support for PHP, MySQL, and other programming languages. Bluehost is a very cost effective company for unlimited shared Linux web hosting with cPanel. Bluehost has multiple developers on staff who work full time in WordPress programming, contributing code to the CMS core. Bluehost has been ranked as the number one choice for WordPress web hosting by WordPress.org since 2005. This makes the company very popular for open source website development. Bluehost has recently launched a new cloud hosting platform that that introduces many technical innovations for CMS websites and MySQL database performance optimization in an affordable manner for the consumer market.
Some key features of Bluehost:
Affordable shared Linux hosting for "unlimited" websites with cPanel for administration
Recommended as the "Number One" choice for WordPress hosting by Automattic
New cloud hosting platform combines OpenStack, Nginx, Varnish Cache, & CDN support
Pro plan guarantees 80% less client domains on server architecture for better performance
Good Uptime Through 12-Months (99.95%)
Free domain name registration and $200 in ad credits included on shared Linux plans
Servers run 16-core AMD Opteron chips (2.4 GHz) with 8 processors, 256 GB RAM, & SSDs
Managed WordPress plans support unlimited sites and over 600 million visits per month
VPS & dedicated server packages are cheap compared to competitors with the same hardware
Bluehost is one of the few web hosting companies currently offering Nginx and Varnish Cache integration as part of their cloud hosting and managed WordPress services. The availability of these advanced database and page caching options for CMS website owners can save thousands of dollars in custom development costs, as well as saving money on a VPS or dedicated server upgrade. Bluehost's shared Linux "Plus" plan allows for the hosting of unlimited websites for about the same price as two lattes ($4.49 per month), and you can lock into introductory rates for up to three years on the initial contract. Unlimited website hosting on their new cloud platform is only $8.95 per month. You can save even more by using our coupon to sign up for a new web hosting account at Bluehost.
Everything You Need to Know About Bluehost
Bluehost is one of the most popular web hosting companies in the world, and the number one recommended hosting service for WordPress. The company has launched an innovative cloud hosting platform, maintains millions of websites on its shared Linux hosting plans, and also offers reasonably priced VPS & dedicated server options with up to 50% discounts for new sign-up accounts.
SERVICES OFFERED: Shared Linux Hosting, Cloud Hosting, Managed WordPress Hosting, VPS Hosting, & Dedicated Servers
PRICE RANGE: $3.49 to $209.99
PAYMENT: Major credit cards and PayPal
MONEY-BACK GUARANTEE: 30 days
SERVER LOCATIONS: United States (Provo & Orem, Utah), Asia (Hong Kong, HK; Mumbai, India; & Shanghai, China), and Europe (London, UK)
CUSTOMER SUPPORT: Phone, Live Chat, & Issue Tickets
Bluehost offers industry standard cPanel hosting services on shared Linux servers. Their new cloud hosting platform includes an optimized server environment and premium hardware. Bluehost is one of the best choices for WordPress hosting, as programmers working for the company are very active in the development of code for the CMS. Bluehost's VPS platform runs on OpenStack & KVM. Bluehost offers predominately quad-core servers in a number of different configurations on dedicated server plans.
SHARED HOSTING PLANS:
| Plan Name: | # of Sites: | Bandwidth: | Panel: | Price: |
| --- | --- | --- | --- | --- |
| Basic | 1 | Unlimited | cPanel | $3.49/mo |
| Plus | Unlimited | Unlimited | cPanel | $4.49/mo |
| Prime | Unlimited | Unlimited | cPanel | $7.49/mo |
| Pro | Unlimited | Unlimited | cPanel | $13.95/mo |
Bluehost is one of the best companies in the industry for unlimited shared Linux hosting and they set the standard that most companies seek to emulate. The Pro plan guarantees higher website performance.
CLOUD HOSTING PLANS:
| Plan Name: | # of Sites: | RAM: | Storage: | Price: |
| --- | --- | --- | --- | --- |
| Starter | 1 | 2 GB | 100 GB | $6.95/mo |
| Performance | Unlimited | 4 GB | Unlimited | $8.95/mo |
| Business Pro | Unlimited | 6 GB | Unlimited | $15.95/mo |
Bluehost's cloud hosting plans combine website optimization features using OpenStack, Nginx, Varnish Cache, & CDN support with more server resource allocation to accounts, making it an excellent service.
MANAGED WORDPRESS PLANS:
| Plan Name: | # of Sites: | RAM: | Storage: | Price: |
| --- | --- | --- | --- | --- |
| WP Standard | Unlimited | 2 GB | 30 GB | $19.99/mo |
| WP Enhanced | Unlimited | 4 GB | 60 GB | $29.99/mo |
| WP Premium | Unlimited | 6 GB | 120 GB | $39.99/mo |
| WP Ultimate | Unlimited | 8 GB | 240 GB | $49.99/mo |
Bluehost's managed WordPress platform uses elements from VPS, OpenStack, KVM, Nginx, & PHP-FPM to provide a best-in-the-industry service that will support hundreds of millions of page views per month.
VPS HOSTING PLANS:
| Plan Name: | RAM: | Storage: | Transfer: | Price: |
| --- | --- | --- | --- | --- |
| Standard | 2 GB | 30 GB | 1 TB | $14.99/mo |
| Enhanced | 4 GB | 60 GB | 2 TB | $29.99/mo |
| Premium | 6 GB | 120 GB | 3 TB | $44.99/mo |
| Ultimate | 8 GB | 240 GB | 4 TB | $59.99/mo |
Bluehost's VPS plans are a powerful upgrade over shared hosting for CMS websites running on the LAMP stack, with current support for MySQL 5.5, PHP 5.4, Perl 5.10, Python 2.6.6, Ruby, & Ruby on Rails.
DEDICATED SERVER PLANS:
| Plan Name: | RAM: | Storage: | Transfer: | Price: |
| --- | --- | --- | --- | --- |
| Standard | 4 GB | 1 TB | 5 TB | $79.99/mo |
| Enhanced | 8 GB | 1 TB | 10 TB | $99.99/mo |
| Premium | 16 GB | 1 TB | 15 TB | $119.99/mo |
Bluehost's dedicated server plans are a reasonably priced option for power users, high traffic website owners, popular ecommerce stores, & mobile applications. Each plan includes 5 dedicated IP addresses.
Bluehost is traditionally one of the most affordable hosting companies and leads the industry in providing introductory discounts on new accounts when you first sign up with the company. You can take advantage of these great rates for shared Linux hosting, the new cloud platform services, or managed WordPress plans, as well as on Bluehost's VPS and dedicated server packages.
Bluehost offers an unconditional money-back guarantee during the first 30 days of any web hosting plan. If you are not satisfied for any reason, simply cancel the account and receive a full refund. After 30 days, Bluehost offers a pro-rated refund policy. You can still cancel an account and receive the balance of fees paid in advance. Only domain name registration costs and the charges for other similar services like dedicated IP addresses and SSL/TLS certificates are excluded from this offer.
In order to cancel a Bluehost account, you will need to call their customer service office and request a cancellation form. You should have the registered account email address and credit card number used in billing available for reference. The phone number for Bluehost customer service is 844-853-6296. Bluehost will refund your credit card or PayPal account after the cancellation request is processed.
30 DAY MONEY BACK GUARANTEE to receive a full refund on any hosting plan
AFTER 30 DAYS receive a pro-rated refund on any time remaining on your contract.
NO REFUNDS on domain names or domain-related products like IP addresses, SSL/TLS certificates, etc.
Bluehost serves the North American market through a main data center located at their corporate headquarters in Orem, Utah and another large facility based nearby in Provo, Utah. In expanding internationally, the company has established server locations in Shanghai, Hong Kong, & Mumbai to target the China and India regions. Bluehost maintains another data center in London for their UK & European customers. Although the company does not officially disclose this information publicly, industry analysts have traced Bluehost's domain names through the DNS and IP addresses to decipher these data center geo-locations.
DATA CENTER LOCATION #1: United States – Provo, Utah
DATA CENTER LOCATION #2: United States – Orem, Utah
DATA CENTER LOCATION #2: Asia – Hong Kong, HK
DATA CENTER LOCATION #2: Asia – Mumbai, India
DATA CENTER LOCATION #2: Asia – Shanghai, China
DATA CENTER LOCATION #2: Europe – London, UK
Bluehost shares the Provo, Utah data center with HostMonster and both companies are subsidiaries of the Endurance International Group. Although they offer quad-core 2.5 GHz CPUs with 1 TB storage on their dedicated server plans, most of Bluehost's data center hardware is currently running on 16-core AMD Opteron processors (2.4 GHz) that are configured in 8 CPU servers with 256 GB of RAM and 64 TB of SSD storage. These servers keep over 2 million Bluehost customer websites online every day.
With most of their business clients on shared Linux servers, cloud hosting plans, and VPS accounts, Bluehost has implemented cutting-edge resource allocation software to optimize their platforms, using hardware with eight 16-core Opteron CPUs installed with 256 GB of RAM & SSD storage for better database performance and faster page load speeds on websites.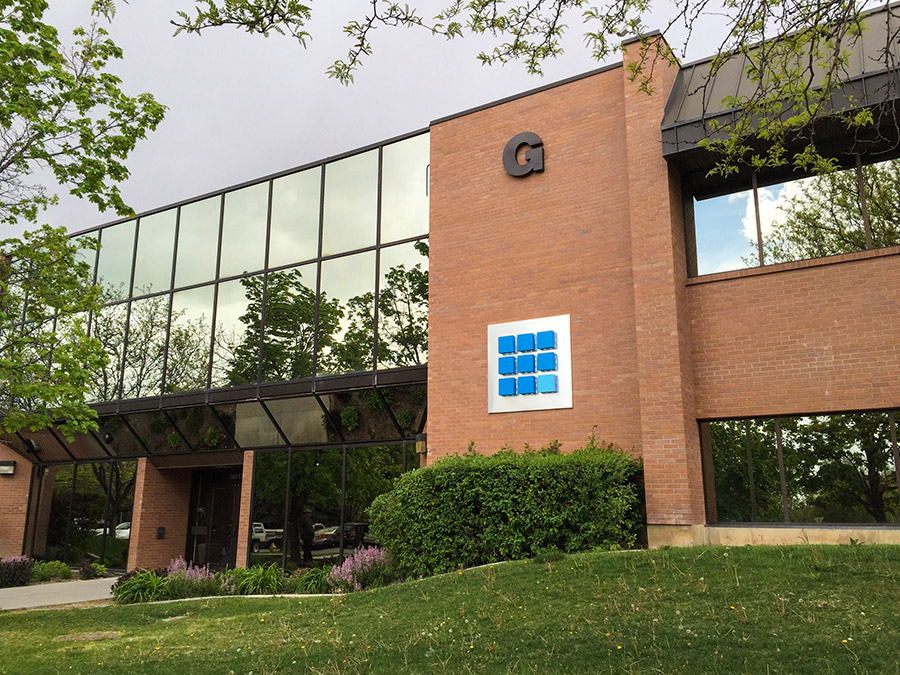 This photo shows the Bluehost headquarters in Orem, Utah, a state-of-the-art campus facility housing the company's corporate management offices, expert programming staff, and customer support phone center.
Bluehost relies primarily on phone support for its customer service department. They also make use of issue tickets and a live chat service that can be accessed through a web browser. Bluehost does not encourage the use of email in customer support for sales questions, technical problems, or account management. Much of the information required to solve problems related to customer support issues can be found in articles, guides, and tutorials posted in their Help Desk and Knowledge Base sections.
PHONE SUPPORT: You can contact Bluehost's sales department and 24/7 technical support channels toll free in the U.S. by dialing (888) 401-4678. International customers can call (801) 765-9400.
LIVE CHAT: Use the link above the main menu on the website to launch a live chat session.
EMAIL TICKET SUPPORT: To open a support ticket at Bluehost, look for the link in the footer menu under the "Support" section. You can quickly route a ticket to the appropriate customer service department.
KNOWLEDGEBASE: Bluehost has a helpful knowledge base with a library of articles, guides, and tutorials on web hosting issues that will allow you to quickly search for answers to frequently asked questions.
HELP DESK: The Bluehost Help Desk is a center for accessing all of the resources in the support department, including issue ticket management, knowledge base search, and user forum resources.

Customer Reviews
Have your own comment about this web host? Write a review and tell us!
[wppr_reviews]
Sorry, there are no customer reviews yet for this web host.