5 Fastest Web Hosting Providers of 2021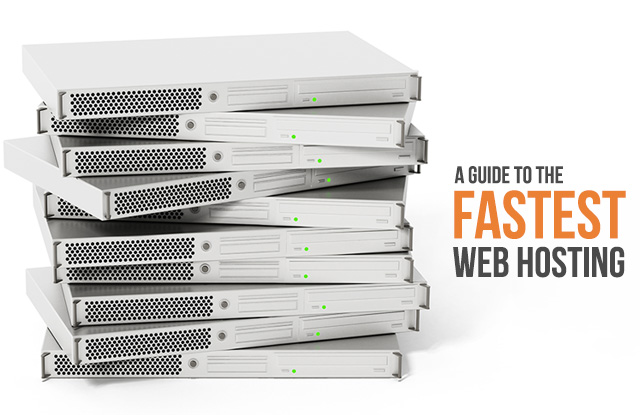 A high performance web host is the foundation for a fast loading website. In this article, we'll review the top 5 fastest web hosting providers from the results of our benchmark testing of 14 different popular web hosts.
A Quick Look at the Fastest Web Hosts
After a review of the data transfer speeds from our benchmark testing, here is a quick summary of our results showcasing five web hosts we found to be the fastest overall service providers when compared with the base price and average downtime numbers:
While most of the web hosts performed well in our benchmark testing, the above 5 stand out as our top recommendations for the overall best hosting services in relation to the best speeds, price, and uptime.
Speed Comparison of 14 Popular Web Hosting Providers
Here's a look at 14 popular web hosting providers and their data transfer speeds – all of the web hosts attained times of less than one second with a 600ms range between the fastest and slowest web servers.
In 2016, web hosting companies largely completed what has been a multi-year change-over from the use of HDD storage on shared Linux web servers to SSD storage options being provided even in the cheapest, entry-level hosting accounts. Some of the older companies like GoDaddy, HostMetro, & FatCow with many legacy shared hosting platform customers and older web server hardware in their data centers have not yet fully upgraded their shared hosting servers to SSD storage options.
Bluehost recently did complete this upgrade with SSD storage now standard on all shared Linux hosting plans. With Bluehost, the company may test better in 2018 after this major data center upgrade to SSD hardware for all accounts. However, HostGator, Bluehost, A2 Hosting, and other companies all have cloud server hosting plans with premium hardware and low density servers. It is part of the business plan of these companies to offer slower services on shared hosting plans with the faster speeds on page loads available through the premium account upgrades.
The companies that performed best for our tests were the SSD storage enabled companies of which A Small Orange and eHost (now discontinued) led the way. HostGator was the third fastest web host by average transfer speed times. InMotion Hosting and A2 Hosting performed almost identically in the next tier at only a few fractions of a second off the top web server page load speeds. iPage, DreamHost, & SiteGround performed at similar rates at the next tier level, while Web Hosting Hub and GreenGeeks benchmarked at the same speeds another level slightly slower. The worst performing web hosts overall were GoDaddy, HostMetro, Bluehost, and FatCow.
The use of older hardware with HDD storage and high-density servers with many domains registered on the same hardware were determined to be the main reasons that the lower tier companies performed worse than the upper tier plans.
Comparing Downtime Vs. Speed
It's also important to take note in the amount of downtime a web host has. Here's our data on the same 14 web hosts we've tested, disclosing the average ammount of downtime in minutes per month.
Using benchmarking tools from Pingdom, the same web hosting companies were monitored to test for unscheduled network downtime. The best companies overall in this category were: 1) InMotion Hosting 2) eHost 3) HostGator & 4) SiteGround. All of these companies maintained web hosting services with less than an average of one minute of downtime per month. This is an excellent number.
The companies in the middle tier were benchmarked with an average of less than five minutes of downtime per month. These companies are: 5) DreamHost; 6) A Small Orange; 7) A2 Hosting; 8) GreenGeeks; 9) GoDaddy; & 10) Web Hosting Hub.
The worst performing web hosting companies had between 30 to 60 minutes of scheduled & unscheduled downtime per month. These companies were: 11) iPage; 12) Bluehost; 13) FatCow; & 14) HostMetro. Large amounts of downtime can represent significant problems for a web hosting company and lead to refunds or migration of customers.
Downtime can signal that a web hosting company is on the downturn, having technical problems in the data center or subject to hacks, network failure, and DDoS attacks. Since most data centers have multiply redundant backup systems for hardware failure, network outages, and power loss, the presence of heightened levels of downtime is a bad sign for companies that depend on technical expertise for their cloud hardware / SaaS business model.
Comparing Prices Vs. Speed
It's obviously also important to compare pricing of the web hosts. All of the web hosts, excluding Dreamhost, were under $5 per month.
We applied the simple formula of adding page load speed benchmark testing with downtime statistics and comparing these to the base price of the plans on offer with introductory discounts applied. Although most introductory rates are only available to new sign-up accounts, web hosting companies use these sales to attract customers and compete in the industry for the lowest rates on comparable services. All of the plans we tested were entry level shared hosting offered by each web host.
Of all the web hosting companies reviewed, five offered shared Linux hosting plans at less than $3 per month, while six more offered similar or comparable services at $4 per month. With FatCow and A Small Orange priced at just over $4, DreamHost is the outlier in our survey with prices over twice the competition on average. In our page load speed benchmark tests for WordPress, DreamHost finished in the middle of the pack, on par with other companies, not seeming to justify the price difference.
The surprisingly competitive performance of the bargain web hosts like ASmallOrange, HostGator, and iPage was interesting to note as customers of these companies are not losing out on page load speed or web server quality when signing up for a budget plan. However, we are concerned enough about iPage's downtime issues that they did not advance to the top five in the final results.
How Our Stats & Benchmark Testing Was Conducted
The fastest web hosting platforms can be determined by combining elements related to: 1) the processing speed of the web server hardware in the data center; 2) the I/O transfer speeds available on RAID data storage devices for web traffic requests; and 3) the load-balanced data transfer speeds available through DNS, web, & database servers in the network routing of web traffic. Because it is difficult to test for every practical application in the use of web hosting, we developed a review methodology that focuses on the ability of each web server or hosting plan to reliably transmit a single WordPress web page over time to a benchmark service (Pingdom) that was used to record the data transfer speeds. These results were then factored by uptime and the price per month of each web hosting plan.
Test Notes:
We used Pingdom Montioring Tools to measure the data
Only shared hosting entry level plans were used
Installed a fresh copy of WordPress on each test account
The WordPress websites were all equal in terms of size and content
Caching was configured as optimally as possible on each account
Pingdom tested the sites from various servers across North America
Stats were taken from the last 6 months of monitoring
A quick note about the single most important determining factor in our speed tests for the web hosting plans was SSD storage on the hardware side of things. The companies that did not offer SSD options on their shared hosting plans not surprisingly performed at noticeably slower speeds vs. the SSD-enabled accounts. Most of the companies with slow transfer speeds still have HDD storage installed.
Also note that because most customers are running PHP & MySQL scripts for CMS websites, blogs, ecommerce stores, forums, & wikis, the factors determining website performance in hosting can depend on code and database processing requirements. Our WordPress tests used a cached HTML page with resource files (CSS/JavaScript) as a standardized example of single page load requirements on a web server.
Factors That Can Impact Your Web Hosting Speed
There are numerous factors that can impact a web host's speed. Furthermore, there are additional factors that your website plays a part in. For example, the configuration of a CMS or eCommerce store platform, the optimizing of CSS & JavaScript files through compression, and the caching of web pages on database-driven websites with dynamic content are all important factors in the overall performance of a hosted website.
Some of the main factors recommended to consider for improving page load speeds on web hosting plans are:
Network Speeds
Geographical Distance
Website Optimization
Web Hosting Utility Tools
Network Speeds
Network speeds depend on internet backbone fiber-optic service providers that connect data center hardware to users around the world. Most web hosting companies use multiple redundant connections from the major telecommunication companies so that high speed network connections are always on even if a single company fails. Upload and download speeds are standardized on this model so no web hosting company has a major advantage over the others with regards to fiber-optic speeds. However, the way the web hosting companies optimize web traffic requests in their cloud network routing systems can play a major role on the speed of data transfer requests, as well as the difference between high performance and outdated hardware in processing I/O requests to the web servers.
Geographical Distance
With the choice of geo-location for web servers, there are two main options. First, some web hosting companies have multiple data centers located around the world with the option of choosing which location to host a website's files in physically. This can be recommended for targeting specific markets, legal districting reasons, or for searching out centrally located data centers that can serve all North American markets from equal distances. The second option is to cache temporary copies of web pages to CDN servers in different North American and international locations. While the CMS or ecommerce software used to generate dynamic content remains on the web hosting plan server, the cached copies are served to major media markets reducing the processing strain on the hardware. Both options can be used in a complimentary manner depending on the requirements of the website to be published.
Website Optimization

Websites built with WordPress, Drupal, Joomla, and other CMS software need to be optimized after publishing in order to scale effectively for user traffic while conserving server resources. Since simultaneous I/O processes are limited on shared hosting accounts, advanced page caching through the CMS is important. Current best practice involves multiple layers of caching in website pagespeed optimization, for example, in the CMS, at the PHP level, on repeated database requests, & stored web page files, etc. Look for cloud hosting or shared Linux plans with Nginx, Varnish Cache, APC, OPcache, & Memcached options for the best results and integrate these with CSS/JavaScript compression to reduce the overall size of web page transfers. SiteGround's Super Cache plugin is based on multi-layered caching solutions and includes company-developed plugin support for WordPress, Drupal 7, & Joomla.
Web Hosting Utility Tools
CloudFlare CDN integration is a major benefit for website owners who are looking for even faster page load speeds through international caching to major media markets. For website owners running CMS scripts, the CloudFlare Railgun service has the ability to update dynamic content by transferring the changes made when publishing new web pages to the cached version and updating the files. DreamHost's CDN service promises page load speeds that start at under a tenth of a second, which is exceedingly fast using cached and compressed copies of HTML, CSS, & JavaScript -leading to some of the best performance times possible in Google's Pagespeed tests. Browser support for HTTP/2 is required but web hosting plans that support PHP 7, HHVM, & HTTP/2 should be preferred for complex CMS website hosting as the next generation of web standards becomes popular in development.