How to Build an Amazing Actor Website Yourself
Actors have got it pretty rough. Countless rejections and long periods in between gigs are just two of the many challenges aspiring thespians face on the road to "making it".
One of the most difficult hurdles might be the extremely condensed time-frame actors have to make a lasting impression on potential employers. Casting directors make lightning-quick decisions on who to bring in for an audition based primarily on an actor's headshot, so it's critical that this well-chosen photograph perfectly encapsulates their essence within a second.
But in today's market, an actor's website is just as critical a calling card as the traditional headshot and résumé, and it has become an absolute necessity in the business of acting. The same principle of conveying an essence within a strict economy of time still applies, so actors better be sure that their website is professional looking, intuitively laid out, and consistent with their personality and brand.
Luckily, accomplishing all of this is much easier than it used to be for the average DIYer. It is no longer necessary to break the bank in order to get a simple actor website up—and in fact, the total cost is now an extremely negligible investment. So let's look at how any aspiring actor, regardless of technical skill level, can get a career-launching website online just by following a handful of easy steps.
Why Actors Should Make Their Own Website
Undoubtedly the most common reason for building your own website comes down to cost. Hiring a web developer can be quite expensive, particularly when there are some services out there who seek to capitalize on this niche market of starry-eyed hopefuls by overcharging for otherwise standard work.
A wise actor can avoid this pit of expenses by simply designing their website themselves—and thanks to some recent advancements in web technology, this is much easier to do than you might think. Website builders have come a long way through the years, and they now put the power of easily customizable web design in the hands of anyone. For a fraction of the cost, everyday users can build websites comparable to many "professional" efforts—and they don't have to write a single line of code to do it!
This DIY approach also provides the benefit of your website truly representing your unique brand, since it's designed by you. You have full control over how you're presented to casting directors and producers, and how you choose to portray yourself can say just as much as a headshot or written bio can.
Which Website Builder to Choose?
There are dozens of great options out there, and it's hard to narrow it down to just one tool that might be right for you. However, when comparing the platforms based on price, user friendliness, customization, and level of support, we have found that Wix offers an unbeatable value for actors wishing to build their own website.
You won't need to write any code, and you can easily customize your site using premade templates as an invaluable launching off point. Don't be intimidated though; Wix is a very simple drag-and-drop tool that can be learned in no time.
5 Easy Steps to Building an Actor Website
Ready for your close-up? Here are some simple directions to serve as motivation. Action!
Step 1: Selecting the Right Template.
To get started with Wix, all you need to do is first decide on a website template you like. As you can see, there is a myriad of readymade options for just about any type of online business. Although you can customize these templates to match your needs, it's best to start off with something that's as close to the finished product as possible.
I've chosen the Actor & Model Resume template as our foundation. Its simplicity and clean layout keeps the focus on its most vital aspect: the actor. You don't want your intended visitors to be distracted by superfluous design, menus, windows, etc. Remember that casting directors need to learn who you are in a matter of seconds. Don't make them hunt for the information.
From within the template live preview, click the "Edit this site" button at the top and you'll be taken through the quick process of opening a Wix account. Don't worry—it's completely free to start designing your website, and you'll only pay money once you're ready to publish the site to a domain.
Pro Tip:
When it comes time to select your subscription plan, it is recommended for actors to go with the "Combo" plan (currently $11/month). This gives you all the bandwidth and storage you could need but more importantly will remove the amateurish Wix Ads from your site.
Step 2: Register a Domain Name and Email
The next step is to register a domain name and connect it to your website, since you obviously don't want the provided username.wixsite.com/sitename URL. To do this, go to the top menu and hover over Site, then click Connect Domain within the submenu.
Chances are you'll be creating a new domain rather than transferring one you already own. So now it's time to decide what your actor's website will be named. The best practice is to keep it simple and memorable; generally it should just be your name or stage name and nothing more. The .com top-level domain is always most preferable (bradpitt.com). If your name is already taken, try adding a modifier like "actor" or "official" (bradpitt-actor.com) before reverting to other top-level domains like .net, .io, etc. Again, it's important that your domain is memorable; most people will only think of the .com version.
Once you decide on your domain, never let it go. When it's time to renew it for another year, don't drag your feet. Your domain is the key to your branding kingdom. Once you're a face in the spotlight, you don't want someone else snatching up your domain and siphoning the traffic that should be going to you.
Get a Professional Email Address
Although you should list your manager or agency's email address in your site's contact section, it is still necessary to acquire a professional email address that matches your domain (brad@bradpitt.com). Not only is this good for appearance's sake, but your newsletter correspondences will stand a lesser chance of being directed to spam folders than if they were sent from a Gmail address.
For a nominal monthly fee you can sign up for a custom mailbox when you purchase your Wix premium plan.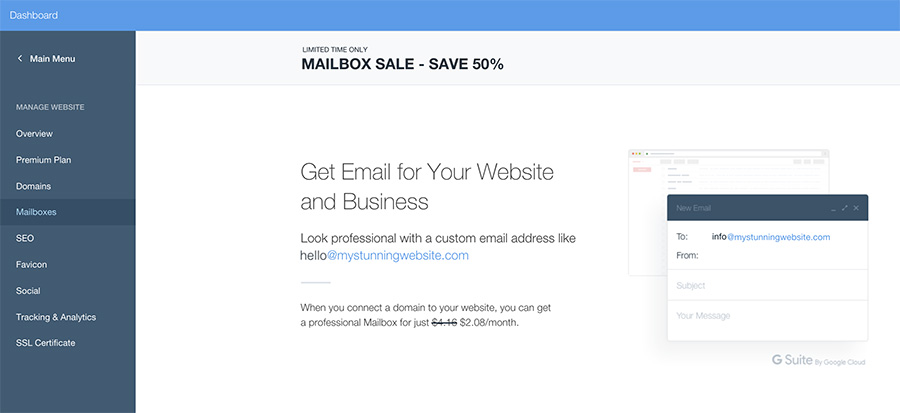 Step 3: Add the Essential Content
No actor website would be complete without these crucial elements. Read on for what you need to include in an amazing actor website that will help you land the gig of a lifetime!
Some Tips Before You Begin
Before you dive headfirst into filling your website with every possible snippet of your life, it's a good idea to first step back and come up with a strategy. Your website is your ultimate calling card, and you want to put your best foot forward in making that ever-critical first impression.
Plan Your Objective
Think of what your website's true objective will be. Is it just a place for a glorified Instagram account? Nope. Your primary visitors will not be fans or social media followers; they will be casting directors, agents, producers, and directors: People who can get you JOBS!
With this in mind, keep your site focused on what your future employers most want to see. Pictures of you working on a film set show that your career is healthy and growing. Leave the pics of your dog on Facebook.
Focus on the Future
Let your résumé show where you've been; your website should show where you're going. Casting directors don't care much for what training you've had or the roles you've played; they're concerned only with what you bring to the table now and how committed you are to the future.
If you've recently decided to become primarily a comedic actor, then the focus of your site should convey this humorous side of you through the headshots you choose, funny videos you post, or the type of training you're enrolled in. Displaying old rehearsal photos of Death of a Salesman, however, will likely send mixed signals to casting directors who won't know what roles to call you in for.
Stay On Brand
Going off of the above point, you want to make sure that your website matches the tonal consistency of your brand as an actor. "Type" and "brand" are very important yet difficult elements for an actor to nail, so when you do finally reach this self-awareness, your website can make or break the essence you mean to convey.
Be Selective
Only show what's most indispensable. Remember that casting directors are often overwhelmed and frenetic; they will likely only have the time or patience to catch a brief glimpse of your material. Your job is to collect only your very best material and present it in an easily digestible, condensed manner.
Keep It Organized
No one in this industry will have the patience for a website that's difficult to navigate. If a casting director or producer has to sift through a half dozen pages just to get to the information they need, then they'll probably move on to the next actor before they get there.
Don't bury your material in hard-to-reach places. If you can, keep the most essential elements all on the same page, with a clear nav bar in view that can direct users straight to this information. Avoid extraneous columns, distracting popups, or incongruous layouts. If visitors are met with a wild mess, then they may pass unwanted judgement on you as an actor.
The Essential Elements of an Actor's Website
Now's your chance to shine! With these elements in their correct place, you'll give a favorable impression to casting directors that you're professional, informed, and ready for a career-launching big break!
Quick Tip:
Remember that our chosen template is a starting point. Make it your own with a font and color scheme that matches your unique brand.
Hero Headshot
That full-screen intro section at the top of our template homepage is what's called a "hero section" or "hero banner". It's common practice in web design to fill that area with simplified, concentrated information about a business, which is displayed over a striking background image. This is a perfect spot for your best headshot! (In this case, landscape shots work better than the traditional portrait shots.)
Bio  
While it's no small feat to condense who you are and your experience into a brief paragraph or two, this is exactly what needs to be done in order to avoid reader fatigue. Keep it at a maximum of 200 words. Highlight your relevant skills or background in a way that helps you stand out from the crowd.
If you're funny, then go ahead and add some humor to it. But don't force it if it's not who you are. Ultimately your bio should capture your true, honest voice.
Headshot Gallery
Usually when you submit for an audition you can only send one headshot, which can sometimes feel like a Sophie's Choice when you have so many great photos you want to show off. Well, here's your opportunity to showcase all your different looks—commercial, theatrical, comedic, pilot season—in one place!
It's best to display these photos in a grid where they can all be seen at a glance. Image sliders are becoming blasé in web design, and they require extra time to view the entire gallery. The less a user has to click on your website the better.
Again, exercise selectivity here. You want enough photos to get your personality and look across, but don't overdo it to where it looks more like a portfolio than a calling card.
If you have other types of photos, such as from press junkets or onset photos, try breaking them up into a separate grid or making a dedicated gallery page that you can organize by photo type.
Résumé
List your work history on the homepage if you can do it without the layout feeling cramped; otherwise, give your résumé its own dedicated page—but make sure it's easily discoverable by linking directly to it in several places where appropriate.
Don't forget about including a link to download the PDF version! Some casting directors still like to print them out for reference; plus it makes it much simpler to share with colleagues who don't need to see everything else on your website.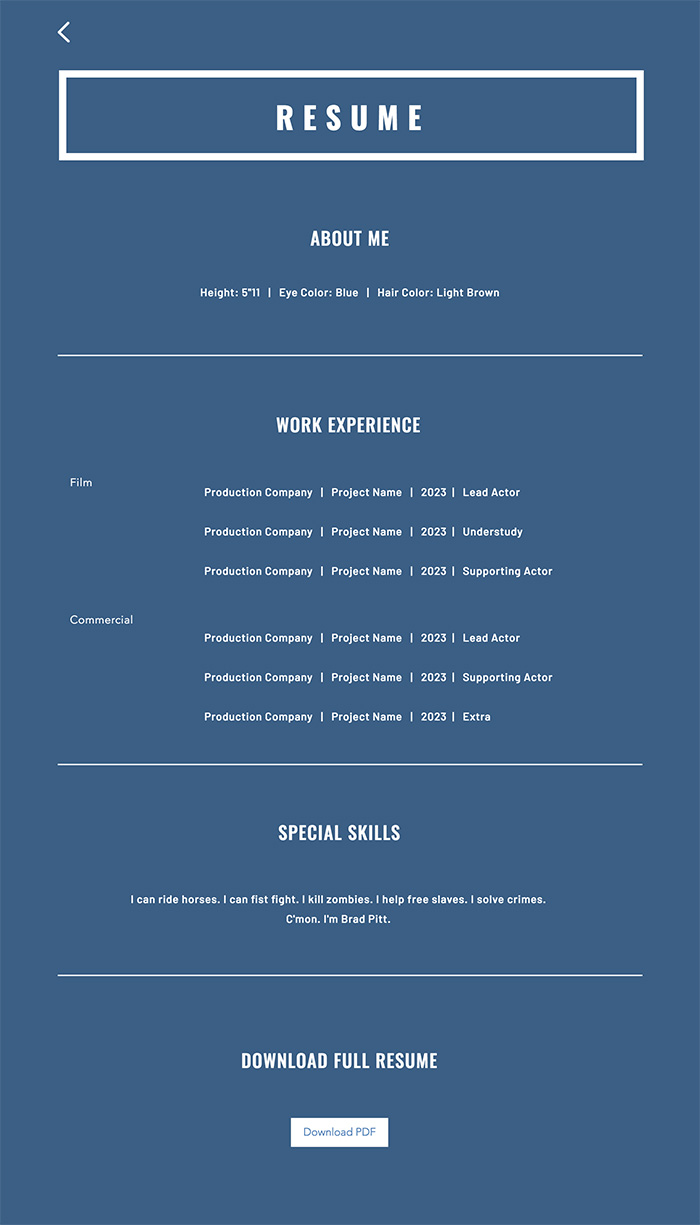 Reel(s)
Show 'em what you've got! If you've amassed professional-quality footage that showcases your acting chops, then you definitely want it on full display here on the homepage.
The industry is seeing a trend moving away from longer reels and more towards showcasing brief clips of about 1 minute in length that are categorized by genre or tone. Again, it's about maximizing accessibility and minimizing time commitment for viewers. Break your material into short clips that show your range and give them obvious labels like "comedy clip" or "dramatic scene".
I've adjusted the layout of our template by removing the need for separate pages of our reels and replaced them with a simple video gallery on the homepage where they're all accessible at once. To do this, click Add from the left-side menu, go to Video and select the "Classic" video gallery underneath Wix Video. You can add videos into the collection by embedding them from YouTube (recommended) and then customize their labels and layout from there.
Quick Tip:
Make sure autoplay is turned OFF. Being met with unsolicited audio when loading a webpage is a huge annoyance to most people, especially casting directors.
Contact Info
Finally, dedicate the bottom area of your homepage to a Contact section, as well as giving it its own page. You'll want to list your agency or manager's contact information here. A clickable link to their email is mandatory, whereas a message form is down to preference.
Bonus: News Headlines
If you're a busy actor and have constant things to share about your developing career, a running news list is a great way to keep your network informed on recent achievements, upcoming shows, or other announcements.
Choose either a News or Events element from the List category on the left-side menu and then customize it to your liking. But before you do, ask yourself honestly if this is something you can commit to on a regular basis. Nothing sends a worse signal than a stagnant news feed!
Step 4: Expand Your Outreach
The final step to creating a fantastic actor's website is to ensure that people are actually aware of it and your brand.
Newsletter Sign-Ups
Email marketing remains the most effective marketing tool out there, so an easy way to build your email list right from your website is a huge asset to your growing business. Sending regular emails to interested professionals in your network is a great way to update them on recent career developments and keep yourself relevant in their minds. You never know—a random newsletter to that casting director you met a year ago just might remind her that you're perfect for the big blockbuster she's currently casting!
Newsletter signup forms, as well as sending customizable email templates, are all seamlessly integrated within the Wix platform. They can be added to your site from the Wix App Market. Just click on Add Apps from the left-side menu and search for the Newsletter app you prefer. Many of them are free, but ones with more advanced integration with services like MailChimp cost a small monthly fee.
SEO
You've probably heard of Search Engine Optimization before, and you probably also know it can be a pretty exhaustive subject. Thankfully, Wix makes it extremely intuitive to improve your site's search engine rankings by walking you through a step-by-step process of selecting your keywords, writing page descriptions, adding alt tags to images, and other SEO must-haves.
To begin the optimization process, hover over Site from the top menu and click "Get Found on Google."  The task of performing SEO inside Wix is pretty self-explanatory.
Step 5: Link to Social Media
Lastly, don't forget to include links to your social media profiles (your professional ones, that is). It's uncertain how much your social media presence has an impact on your career, but I have heard several accounts of actors getting hired for parts because they were found on platforms like YouTube when they had very few professional credits elsewhere.
Social media is an extension of your brand, but in some cases it can be the source of your brand. We live in an age where anyone can be a content creator sharing their talents to the world. Don't underestimate the power of these tools; they may be your ticket to stardom when the more traditional methods aren't falling into place.
Conclusion
With the power and simplicity of website builders, it's now easier than ever for actors to take full control of their online presence. By following these 5 steps to create an amazing actor website, you'll be ready to seize your moment in the spotlight when that life-changing audition comes along. Good luck—err… "Break a leg!"