5 Best Joomla Web Hosting Providers of 2021
Although Joomla is one of the most popular open source content management systems in use on the web, only a few web hosting companies offer platform-specific tools to optimize Joomla websites. While most Linux and Windows hosting plans support the basic requirements for running Joomla, which are Apache version 2.4 or higher (2.0 minimum), MySQL version 5.5.3 or higher (5.1 minimum), and PHP version 5.6 or 7.0 (5.3.10 minimum), site owners need to be prepared to dedicate more than the minimum system requirements to the CMS in order to receive the best website performance. For many high traffic Joomla websites, this means upgrading from the limitations of shared hosting to a VPS or dedicated server plan. For small business website owners, a more cost-effective method can be running Joomla on a cloud hosting plan. While the inclusion of a "one click" installation option for Joomla can be helpful in deployment, most Joomla websites will need to be built on premium hardware and implement advanced caching options on web pages in order to scale to higher levels of CMS performance.
This article will review the five best Joomla hosting companies that we have identified for web development on the basis of web server hardware performance, platform features, quality of customer support, included software tools, and the affordability of each plan. Read on to learn more about choosing the best Joomla web hosting provider:
Our Top 5 Favorite Joomla Web Hosting Providers:
1. InMotion Hosting – Reliable & Affordable Shared Hosting for Joomla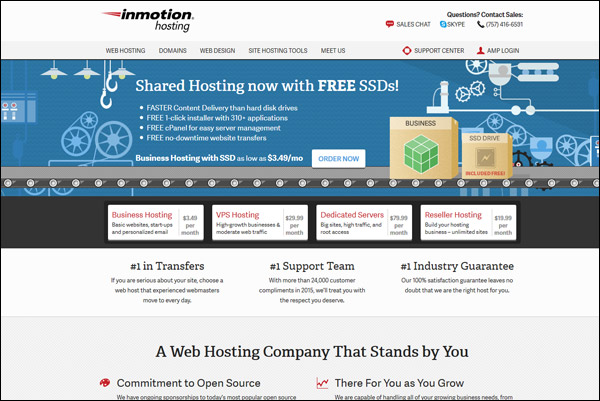 InMotion Hosting offers a pre-installed Joomla service on their shared hosting plans, with a free website transfer for new customers migrating from another hosting company and a free domain registration with every plan. The main advantage of the InMotion Hosting Joomla plans is the inclusion of SSD storage on every account, with up to 20x faster web page processing speeds over HDDs. The proprietary Max Speed Zones™ load balancing technology implemented by InMotion Hosting on their network adds an additional level of optimization. SSH access is enabled on all of the accounts for command line management of the server configuration or using Git for version control with web development teams. PHP 7 is enabled on the platform for over 3x faster processing of Joomla code on the servers. If your websites attract more traffic than InMotion Hosting's shared Linux plans will support, the company provides a seamless migration to their VPS and dedicated server plans without having to take a site offline. The VPS and dedicated server plans allow for the installation of Nginx, Varnish Cache, and other software extensions for better page caching options with Joomla, while maintaining the ease of use of a cPanel environment for multi-domain management. View all Joomla hosting plans
2. HostGator – Hybrid Cloud Web Hosting for Joomla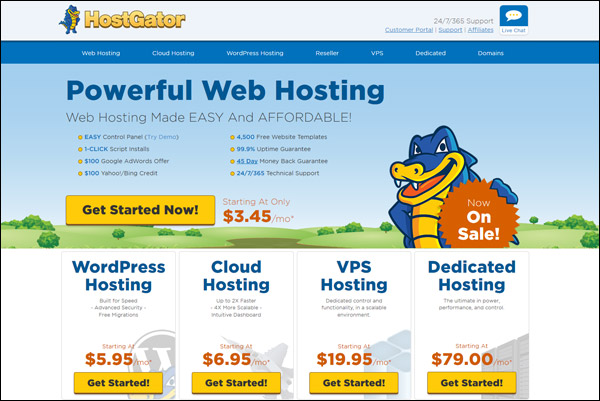 HostGator's shared hosting platform is 100% compatible with Joomla and is one of the most cost-effective solutions for site owners with introductory plans available at $5.56 to $11.96 per month. The Linux platform is based on cPanel and CentOS with the ability to host unlimited domains on most plans. HostGator's cloud hosting service only costs an extra $2 per month and is well worth the upgrade for the significant performance gains that are available with the higher allocation of system resources. Joomla sites hosted on HostGator's cloud platform receive from 2 GB to 6 GB of dedicated system RAM, 2 to 6 CPU cores, and built-in network optimization on premium hardware that provides better overall page load speeds with Joomla than available on the shared hosting plans. HostGator's cloud platform also has built in Varnish Cache capabilities for an extra layer of performance optimization, as well as the ability to integrate with the CloudFlare CDN for global distribution of cached web pages. Developers seeking more advanced solutions can build their own custom server environment on HostGator's VPS and dedicated server plans. With 40% discounts on VPS plans and up to 65% price reduction on dedicated server plans, HostGator offers excellent value on hardware which can be used for custom Joomla development requirements or to support a higher level of web traffic on ecommerce sites, popular blogs, social networks, and business applications. View all Joomla hosting plans
3. A2 Hosting – Managed & A2 Optimized Joomla Hosting Plans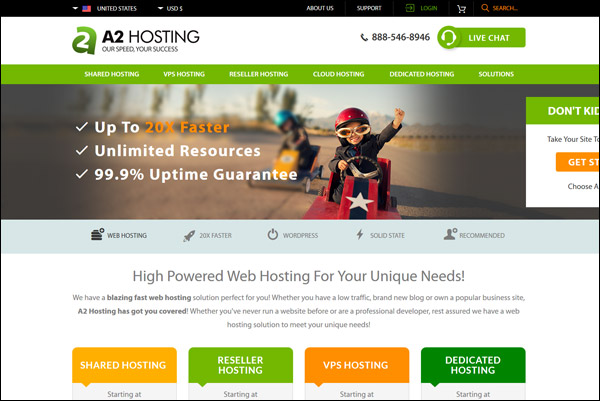 A2 Hosting's SwiftServer platform is SSD enabled for 20x faster processing of web page requests, and their network is equipped with load balancing across the data center for faster server response times. The main advantage that A2 Hosting offers for Joomla website owners is premium hardware on all of their service plans. Their Turbo Servers include APC, OPcache, and Memached integration, as well as a guaranteed low-density environment with more system resources available to every domain. The minimum server configuration specifications for the A2 Hosting Joomla plans is a 12-core CPU with 64 GB of installed RAM. The allocations available to each account range from 500 MB physical RAM (4 GB virtual RAM) and 1 CPU core on introductory plans to 2 GB physical RAM (8 GB virtual RAM) and 2 CPU cores on the Turbo accounts. Websites that require more hardware resources can be migrated to one of A2 Hosting's VPS or dedicated server plans. Developers who prefer to run an operating system other than CentOS can choose an unmanaged VPS, dedicated server, or cloud hosting plan with options for CloudLinux, Ubuntu, Fedora, Debian, Gentoo, Slackware, or FreeBSD. All of A2 Hosting's Joomla plans include an option to run the script on PHP 7, but HTTP/2 and SPDY are only supported on the Turbo server platform. A2 Hosting has one of the best combinations of hardware and software for LAMP platform web development of any of the web hosting companies in the industry. View all Joomla hosting plans
4. Rochen – Powerful Shared Hosting for Joomla Sites
Rochen is used by Joomla.org for web hosting and offers a number of platform-specific tools on their hosting plans that are designed to make managing the CMS easier for administrators. Foremost among these is the Joomla Utilities cPanel plugin, which is not found with any other hosting company. The Joomla Utilities plugin simplifies installations of the CMS and allows administrators to easily clone complete sites for deployment. It also includes advanced security features for Joomla, permission monitoring for files, password management, and multi-site administration. Rochen's Joomla platform includes better firewall implementation for the CMS, the ability to run under PHP 7.1 settings, pre-installed Git support, and an automated backup service. A single domain plan starts at $4.95 per month and unlimited domains can be hosted for $8.95 per month. Rochen also provides a free domain name registration and SSL/TLS certificates for every website on the plan. For the highest level of Joomla performance, site owners can upgrade to one of Rochen's cloud servers, with specifications that scale up to 24 CPU cores and 64 GB of RAM. Rochen implements VMware ESXi virtualization software on their cloud platform to provide elastic scaling on servers to support over 10 million page views per month. View all Joomla hosting plans
5. SiteGround – Great Shared Web Hosting for Joomla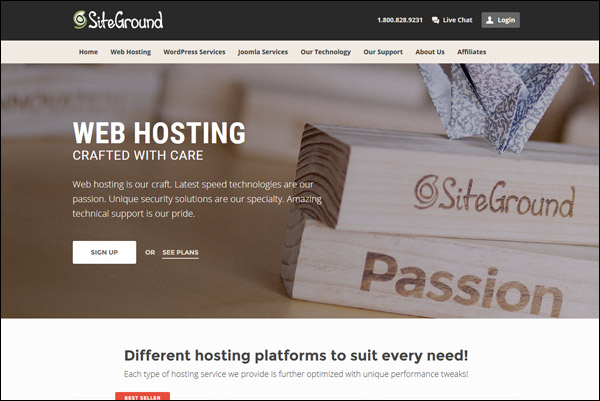 SiteGround has one of the most feature-rich Joomla hosting platforms with a suite of software tools available for developers that are not found on other web hosting plans. The company offers a custom programmed extension for Joomla (SuperCacher) that can be installed to integrate Nginx caching with the CMS. jHackGuard is another product of the SiteGround programming labs that adds an extra later of web security to Joomla websites hosted on the platform. SiteGround also offers auto-update facilities for Joomla, "one click" script installations, and CloudFlare CDN integration for the CMS on their hosting platform. SiteGround's premium Joomla plan includes Git, PCI compliant servers for ecommerce apps, and a development environment for testing code. SiteGround's unlimited domain plans for Joomla include 30 days of backups for every website hosted on the service. Other performance enhancing features on SiteGround's Joomla hosting plans include SSD storage drives, support for HTTP/2, and a PHP 7 option on the platform. The company provides free "Let's Encrypt" SSL/TLS certificates for every domain. All of these options are also available on SiteGround's VPS and dedicated server plans for website owners who require more server resources to scale a domain presence to a larger audience. View all Joomla hosting plans
What to Look for When Purchasing Web Hosting for Joomla
Most businesses and independent web publishers start with a Joomla website on a shared hosting plan and then upgrade to a VPS plan if their website traffic scales beyond what the account limits of the initial service will support. Site owners who require the best performance can focus on either providing more hardware resources to the CMS or implementing more software driven page caching layers when publishing to web browsers. Cloud hosting plans with optimized network routing and load balancing can add an additional level of performance gains. APC, OPcache, and Memcache all work through PHP module extensions and can be implemented for most Joomla websites running on shared hosting plans. Nginx, Varnish Cache, and Redis are all more advanced frameworks that require custom server configuration on a VPS or dedicated server. Cloud hosting plans that offer these advanced page caching options as part of a "Platform as a Service" product can save a lot of money for small businesses using Joomla for web publishing over hiring a development team to build-out a custom solution. Any popular website or ecommerce store using Joomla will need to implement multiple caching layers on premium hardware in order to scale to meet the performance requirements of a high level of web traffic.
Many web hosting companies advertise "Joomla Hosting" services but only provide the basic platform support with one-click script installation using Fantastico or Softaculous. Site owners should carefully scrutinize the fine print on a hosting plan and compare add-on features specific to the Joomla CMS when making a decision between companies. SiteGround has one of the best customized server environments for Joomla development, and Rochen also contains a number of advanced tools for the platform. The main difference is SiteGround's Nginx integration which none of the other web hosts provide. Since the only other option for Nginx integration with Joomla is to contract a VPS or dedicated server plan and install the entire LEMP environment individually, SiteGround's SuperCache plugin is a unique option that can save small businesses and independent publishers a lot of money vs. the custom development costs required to program the same features for Joomla. In summary, cloud hosting plans provide better performance options for Joomla than shared hosting services, with premium hardware and multiple layers of page caching built into the platforms. Because Joomla is resource intensive, even small websites will appreciate the performance gains available on cloud hosting plans, and Joomla website owners should consider them as a default option over shared hosting unless a specific upgrade to a VPS or dedicated server plan is required due to web traffic or custom development needs.
Some of the most important features to look for when deciding on the purchase of a Joomla web hosting plan are:
Joomla Web Development Tools – platform-specific developer tools can distinguish expert Joomla web hosts from those that only support the basic installation of the script
Premium Hardware Configurations – the latest multi-core web servers with solid state drives (SSDs) and ECC DDR4 RAM will provide the best overall CMS & database performance
Cloud Server Optimization – cloud hosting offers an alternative to VPS plans with the benefits of network load balancing and elastic scaling to web traffic requirements
Advanced Page Caching Options – a multi-layered caching approach including Nginx, Varnish Cache, APC, OPcache, & Memcached can vastly improve Joomla page load times
Free Global CDN Integration – the inclusion of a free CDN service like CloudFlare on hosting plans adds value and the ability to deploy cached web page files globally
Scalable Server Resources – allocating more CPU cores, system RAM, and web server I/O processes to a Joomla installation is one of the best ways to optimize the CMS
Script Installation Utilities – many Joomla hosting plans offer a pre-installed website, a development subdomain for testing code, & "one click" script installation wizards
Systems Administration Tools – a combination of cPanel for multi-domain administration and server configuration with SSH, cURL, Git, Subversion, etc. for version control
Most Joomla website owners prefer to run the CMS on a LAMP platform, primarily due to the cost advantages of shared Linux hosting plans. However, there are a lot of differences between the stack software installed on each of the different proprietary web hosting platforms, even when the companies are offering a similar cPanel and CentOS Linux environment. The inclusion of Joomla web development utilities and advanced support for web standards, including the latest versions of programming languages, database frameworks, libraries, and server extensions, can be an important method to distinguish between the quality of hosting services offered by the different companies. This relates also to "Platform as a Service" products such as cloud hosting plans. The inclusion of premium hardware, low density server environments, advanced load balancing on network traffic, and alternative page caching features on cloud hosting plans guarantees that they will provide better performance for Joomla CMS websites over shared hosting servers. When combined with scalable resource allocation that assigns higher levels of dedicated CPU cores and system RAM to an account, cloud hosting platforms offer competitive alternatives to VPS plans, often available at a fraction of the price on a monthly contract. However, most cloud hosting plans except for Rochen & SiteGround (Joomla partner companies) are not specifically optimized for the Joomla CMS and lack the suite of developer utilities found on specialist hosting solutions.
Consequently, Joomla website owners will need to balance the different advantages and disadvantages of each company platform when making a final decision on a web hosting plan. The requirements of production websites can change over time as the number of visitors to a domain presence scales to higher levels through search engine traffic and special sales & marketing promotions on social media. Business site owners and web developers often need to transition from shared hosting to a VPS plan or dedicated server while staying with the same company. Web hosts that provide free website migration services can make it easier to change contracts for existing sites to seek out better deals. Many cloud hosting platforms are new and may not have existed when a Joomla website was originally launched. Transferring to these platforms from a shared hosting account is one of the easiest ways to optimize CMS website performance with minimal additional costs. Even low traffic Joomla websites will see the result of faster page load times through greater levels of premium hardware allocation, advanced page caching, and network load balancing. Cloud hosting plans reflect the latest innovations in web publishing and data center network management. Best practice is to upgrade Joomla websites to a cloud hosting plan for better page load speeds than available on shared hosting, and use VPS accounts when the server environment needs to be customized for specific web development requirements. Elastic cloud platforms based on virtualization can also be used to replace dedicated servers for Joomla websites with the highest levels of web traffic.