5 Best Dedicated Server Hosting Providers of 2021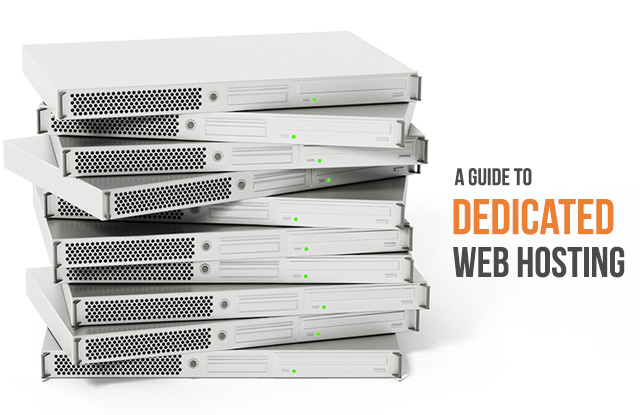 Dedicated servers leased in a data center with high speed fiber optic connections, 24/7 network systems administration, and hardware configurations based on the latest multi-core processors represent the highest level of service plans a web hosting company can offer. Although many dedicated servers are installed with the same operating system, stack software, and administrative tools found on shared hosting, both the cost and the power of these units are on average 50 to 100 times greater than what is offered on shared hosting plans. As advances in VPS platform technology allow developers to harness most of the advantages of a dedicated server at a lower cost, the use case scenarios which require dedicated web server hardware generally revolve around high traffic websites whose online community approaches the 10,000 simultaneous user limit defined by Apache at any given time. While extensive CPU use in script or database processing requirements may further limit the amount of web traffic a dedicated server can support, other frameworks such as the use of Nginx in web development can extend it significantly. Dedicated servers are most important when a website requires a custom development environment or higher level of security than provided by other web hosting plans.
Our Top 5 Favorite Dedicated Server Hosting Providers:
This article will review the five best dedicated hosting companies that we have identified for web development on the basis of web server hardware performance, platform features, quality of customer support, included software tools, and the affordability of each plan. Read on to learn more about choosing the best dedicated server hosting:
1. InMotion Hosting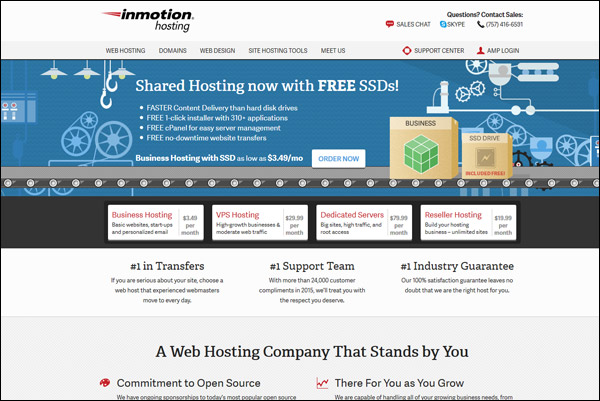 InMotion Hosting has one of the best selections of web server hardware in the industry available on their dedicated hosting plans. InMotion Hosting's servers are available under a managed approach with a pre-installed operating system, including regular maintenance, security upgrades, and technical support in the package. InMotion Hosting's dedicated server plans run on CentOS Enterprise Linux with a free license for cPanel. All of the plans include a solid state drive (SSD) storage upgrade and a "double RAM" promotion for hardware specifications that are built for high performance website applications.
Businesses hosting multiple domain names on cPanel will appreciate the inclusion of 10 to 15 dedicated IP addresses, which other companies charge $5 to $15 per month for individually. This makes InMotion Hosting excellent for ecommerce websites requiring encryption for personal data on all transactions. Across the range of web hosting companies we have reviewed, InMotion Hosting has outshined the competition by offering high quality hardware at some of the most affordable prices in the industry. View all dedicated hosting plans
2. A2 Hosting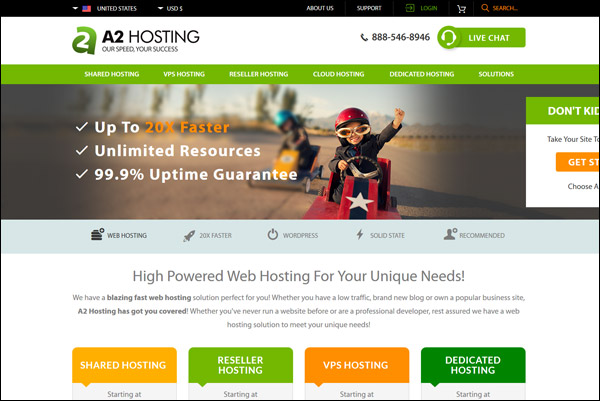 A2 Hosting has the most custom configuration options on their dedicated server plans among all of the hosting companies that we reviewed. Where many companies only offer a few hardware choices on their dedicated server platforms, A2 Hosting allows complete flexibility in choosing the amount of RAM, number of CPU cores, storage capability, and bandwidth required to build out web servers with the exact specifications required for high performance hosting applications. A2 Hosting also has three different frameworks of dedicated server management available, allowing you to install a choice of operating systems and administer the server through your own technicians, or to lease a pre-configured machine with all of the security upgrades and platform maintenance performed by A2 Hosting staff.
On the basis of either a dual core i3 processor or a leading-edge 12-core Intel® Xeon® E5 CPU, you can add more RAM, storage, and bandwidth in any combination to build the system that most reflects the needs of a particular website hosting requirement or project budget. A2 Hosting's dedicated server plans will support RAM installation up to 512 GB. Along with some of the best prices in the industry, a dedication to platform innovation, and introducing new web development standards, A2 Hosting also offers cloud optimization, integrated CDN support, and Turbo upgrades with advanced page caching features. We have found A2 Hosting's platform to offer some of the best performance standards on dedicated servers of any company that we have reviewed. View all dedicated hosting plans
3. HostGator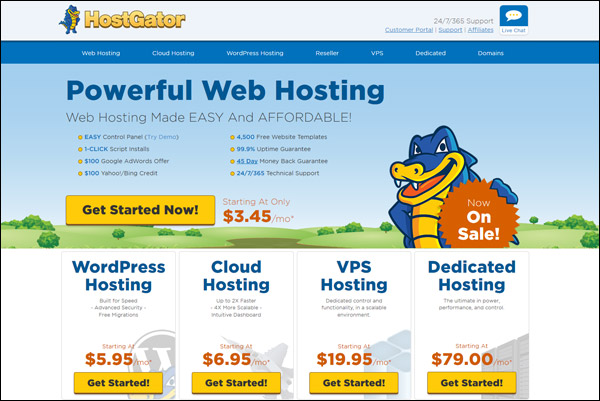 HostGator offers four tiers of dedicated servers with all of the platform features of their popular shared hosting plans, including WHM, cPanel, CentOS, and domain reseller tools. HostGator's main advantage is in offering industry standard services at rock-bottom prices for new customers taking advantage of their introductory discounts. The company offers 54% to 65% off the normal price of every contract when signing up for a new dedicated server, and you can lock into these great prices for as long as a three year term. HostGator has upgraded their dedicated server line to Intel quad-core CPUs and makes this hardware available for lease in their data centers on four different plans with various amounts of RAM, storage capacity, and bandwidth. It is easy to manage multiple domains on these accounts through cPanel and the other tools provided on the platform by HostGator.
The inclusion of everything you need for LAMP development along with reseller's tools on HostGator's dedicated server plans makes them an easy to deploy solution with a lot of different options. These include ecommerce websites, social networks, popular blogs, mobile applications, forums, wikis, and archives. With discounts of over $100 a month available on their dedicated server plans, HostGator is recommended for bargain hunters who compare prices and seek the best value on hosting deals. View all dedicated hosting plans
4. Bluehost
Bluehost is the top recommendation for WordPress hosting and when your site traffic scales past what a shared hosting plan will support, the company offers a solid line of dedicated servers to transition to, all of which are available fully provisioned under a managed approach. The company offers an industry standard cPanel and CentOS development environment with some of the lowest prices on server hardware across all of the companies we have reviewed. You can lease dedicated server hardware from Bluehost capable of serving over 10 million page views per month with WordPress for less than $100. Bluehost leverages the volume of its customer base and data center resources to offer the best prices on dedicated server plans, which include platform management, security updates, and technical support.
Website owners managing a portfolio of domains under development with cPanel will have no problem migrating to a dedicated server at Bluehost. The company offers from 3 to 5 dedicated IP addresses for SSL/TLS support on every plan. Bluehost uses OpenStack to optimize web traffic in the data center, and their technical support staff can help to install advanced server extensions for WordPress performance enhancement that result in even faster page load speeds for the CMS. Due to the company's unique development position contributing to the WordPress project, the Bluehost dedicated server plans also include donations that go back to support the open source community. View all dedicated hosting plans
5. iPage
The dedicated server platform at iPage includes three main levels of pre-configured hardware made available for short and long-term contracts with all of the most popular developer tools for LAMP running on CentOS with cPanel. The company offers 20% discounts across the board for all new account sign-ups. iPage implements advanced load balancing techniques in their Boston area data center to prioritize web traffic across their network. Their dedicated hosting plans include all of the stack software installed on their shared hosting accounts, with regular hardware maintenance, security updates, and technical support managed by iPage systems administrators over the life of an account.
The main advantages of iPage's dedicated server plans are the included licenses for the platform software, the preconfigured installation of the environment, the ability to deploy hardware quickly, and the inclusion of systems administration support in the terms of the contract. The data center is well positioned for websites that are popular in the East Coast market. In summary, iPage provides a solid, reliable hosting service with excellent technical support staff and reasonable prices on dedicated servers, with a discount on new account sign-ups that can be locked into for up to a three year term. View all dedicated hosting plans
What to Look for When Purchasing a Dedicated Hosting Plan
Dedicated server plans allow business owners and independent publishers to procure remote web server hardware in a data center in the cloud with 24/7/365 connection to high speed, fiber optic "internet backbone" carriers. One of the main advantages of this framework is that the web hosting company will typically manage the hardware and software environment as part of the contract lease, allowing businesses to save money on IT costs. Dedicated servers are required in web hosting when a website or mobile application regularly attracts more simultaneous users than a shared hosting account will support, or when custom coding requirements demand the installation of platform extensions related to the database or programming languages that the shared hosting environment does not support. Dedicated server plans can be compared on a cost-effective basis with VPS hosting plans, which provide similar functionality while still sharing server resources on a wider level through platform virtualization.
It is often assumed that only the largest sites in the web need dedicated servers. However, most shared hosting plans will require an upgrade for websites that consistently attract more than 20 simultaneous users per minute, due primarily to the percentage of CPU resources consumed by the account. Since many website owners host multiple domains on a single web hosting plan, businesses with 10 or 20 domains under management can exceed these limits easily, even with moderately trafficked websites. The largest websites in the world actually require data centers with multiple servers and elastic cloud technology to stay online under huge traffic loads. Any website regularly attracting 100 to 1000 simultaneous users will need to evaluate between a VPS and a dedicated server plan. A single Apache server will not optimally support more than 10,000 concurrent users unless the website files, HTML pages, and database operations are all highly cached. CDN integration can also be used to take load strain off of a web server.
Implementing Varnish Cache and Nginx solutions for high traffic websites is a major reason to upgrade to a dedicated server, where even CMS scripts can be configured to support 10 to 20 million page views per month on a single hardware instance using these platform extensions. VPS hosting plans can be used as a development environment, with sandbox, staging, and testing facilities that are used to publish to a dedicated server. Most web hosting companies do not have elastic cloud capabilities on their dedicated server plans, so there are a lot of competitive software projects which seek to extend the amount of web traffic a single server can support at high performance levels. Adding more RAM, CPU cores, and SSD storage to a dedicated server plan is one of the best ways to increase performance. It is important to confirm with the web hosting company whether they support live hardware upgrades on a dedicated server without taking a website offline, or if this will require transitioning to another hardware plan.
Some of the most important features to look for when deciding on the purchase of a dedicated hosting plan are:
Premium Hardware Configurations – benchmarked comparisons of the latest generation of Intel/AMD server CPUs with ECC DDR4 RAM and SSDs for best overall performance
Price Discounts & Special Offers – double RAM & free SSD upgrades make a significant price difference when comparing the same hardware configurations between companies
Managed Software Stack Deployment – many website owners prefer immediate server deployment with the operating system & stack software security managed by tech experts
Custom Operating System Choices – unmanaged plans provide more flexibility in installing the choice of Linux OS distributions or the use of Windows Server for ASP.NET
Data Center Excellence – hosting companies who invest significantly in expert technicians and innovate in platform technology provide a higher level of overall quality
Included License for cPanel – the inclusion of cPanel with a free license on a dedicated server plan can save $34.95 per month over the life of the hardware contract
System Administrator Contacts – many hosting companies offer "one on one" consultations with system administrators to customize a server environment for web development
Alternative Server Platforms – web server hardware performance can often be improved by installing platform alternatives to Apache such as Nginx, LiteSpeed, or Lighttpd
Dedicated server plans are priced at the highest tier level of hosting accounts because they provide the most hardware resources and development flexibility for websites and mobile application support. Business owners need to evaluate the price to resource allocation available on dedicated server contracts and compare these to alternative options in VPS and cloud hosting platforms. Similarly, all hardware configurations should be benchmarked through independent review sites in order to assess the server CPU capabilities between the different variants in the Intel Xeon and AMD Opteron product lines. Website owners should avoid long-term contracts on web server hardware that is already outdated and look for configurations based on high performance multi-core CPUs with SSD storage drives over HDD options. Because a new generation of CPU chips is produced every quarter and the competitive pricing on web server hardware changes every year, the savings offered by an introductory discount on a long-term dedicated server plan must be balanced by the flexibility to change configurations easily at a fixed price on a month-to-month term. Companies that provide highly customized stack software installations with developer tools on managed server plans can be excellent, but many websites require the maintenance of a custom stack environment which often only unmanaged server plans offer.
Web security needs to be recognized as a main priority on any dedicated server plan due to the number of automated script attacks and malicious code exploits that proliferate on the internet. While it is easy to overlook systems administration when focused on custom programming solutions or production website maintenance, it is important to always have an expert in web server configuration available for consultation when deploying a dedicated server environment. Where the main advantage of managed server platforms is the remote administration of all aspects of web security by experts from a web hosting company, unmanaged plans with a custom server software environment will need to have extra attention placed on the application of security patches and updates to all installed extensions and libraries. Uptime monitoring needs to be established to receive automated alerts in case any problem arises that takes a server offline. Best practice is to maintain a web development team who can establish the server software environment that is required by the custom programming requirements of web scripts as well as a dedicated system administrator for web security and configuration issues. In this manner, the costs of any dedicated server hosting plan are often minimal compared to the overall development budget and revenue generated by a high traffic website or mobile application requiring a major level of hardware resources.