5 Best WordPress Web Hosting Providers of 2021
WordPress is the most popular open source content management system in the world and it is estimated that about 25% of the total number of websites on the internet use the script as a basis for publishing information online. Small businesses, enterprise corporations, independent bloggers, and non-profit organizations all choose WordPress for web development because of the wide range of free plugins and themes available for the platform created by the open source community. WordPress has highly tested and peer-reviewed security features that are constantly updated through patches to the codebase. The CMS will run on either Linux or Windows servers (Apache, Nginx, LiteSpeed, Lighttpd, etc.) with the main requirements being the latest versions of PHP and MySQL. While all of the major web hosting companies currently support the minimum system requirements for WordPress publishing, a few companies have gone further to create optimized WordPress hosting platforms which include platform-specific development tools, performance enhancing software for website deployment, and enhanced security features which provide more value to customers.
This article will review the five best WordPress hosting companies that we have identified for web development on the basis of web server hardware performance, platform features, quality of customer support, included software tools, and the affordability of each plan. Read on to learn more about finding the best WordPress web hosting:
Our Top 5 Favorite WordPress Hosting Providers:
1. InMotion Hosting – Affordable, Shared Hosting Plans for WordPress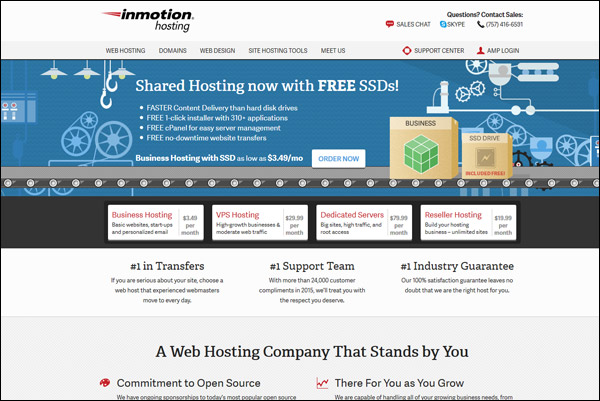 One of the best ways to improve WordPress website performance is to allocate more hardware resources on the web server to CMS code and database request processing requirements. InMotion Hosting's shared plans start at 1 GB of dedicated system RAM on the "Launch" plan, which will support 2 WordPress websites, with a further allocation of 2 GB RAM on their "Power" plan for up to 6 domains. Their "Pro" plan supports unlimited websites and databases with an allotment of 4 GB of system RAM. These shared hosting plans are enabled with an SSD storage upgrade to provide better performance for WordPress websites than many VPS plans at other web hosting companies offer. InMotion Hosting also scales the limits on concurrent system resource requests, simultaneous server connections, and entry processes on each shared hosting plan to establish a greater level of shared server resources on the higher tiered accounts. The unlimited "Pro" plan costs only $7.49 per month, but has the same RAM allocation as their entry level VPS plan at $29.99 per month. InMotion Hosting's VPS plans range from 4 GB to 8 GB of system RAM per account, while their dedicated servers start at 8 GB of RAM and max-out with 64 GB at a cost of $539.99 per month. InMotion Hosting includes the BoldGrid site builder utility and WP-CLI for command line management of the CMS on all of their WordPress hosting plans. View all WordPress hosting plans
2. HostGator – Hybrid Cloud Web Hosting for WordPress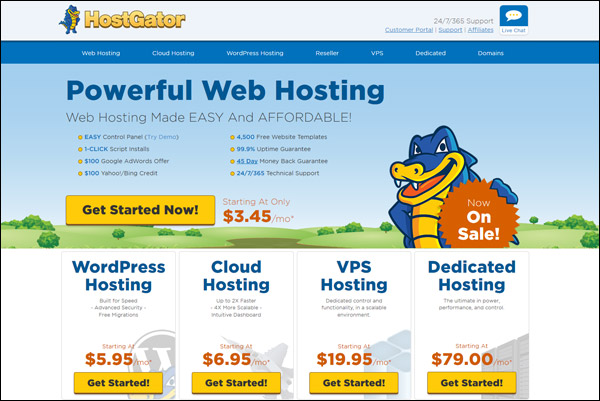 Another recommended way to improve the performance of WordPress websites is to use a cloud hosting service for web publishing requirements. HostGator has an innovative cloud hosting platform for WordPress with a wide variety of helpful software tools, advanced load balancing on network traffic requests, and premium hardware on all accounts. Site owners can host up to 20 websites on the service at prices ranging from $5.95 to $33.95 per month. HostGator's cloud hosting platform for WordPress includes both Varnish Cache and CloudFlare CDN integration. The company uses the Sitelock toolset to combat malware and CodeGuard for automated backups on the service. By guaranteeing low account density on the hardware, HostGator's cloud plans perform better with fewer domains sharing the same server resources. The inclusion of load balancing for web traffic on the network and multiple levels of caching for websites adds together to result in 2.5x faster page load times on the platform when compared to their shared hosting service. At an average of only $2 more per month for each plan, the cloud platform offers significant performance gains for WordPress websites, available with no additional development work or complex systems administration on the web servers required. Overall HostGator's cloud hosting service for WordPress is one of the quickest, easiest, and least expensive means to optimize a website for faster page load speeds or to scale to meet higher levels of user traffic online. View all WordPress hosting plans
3. A2 Hosting – Managed & A2 Optimized WordPress Hosting Plans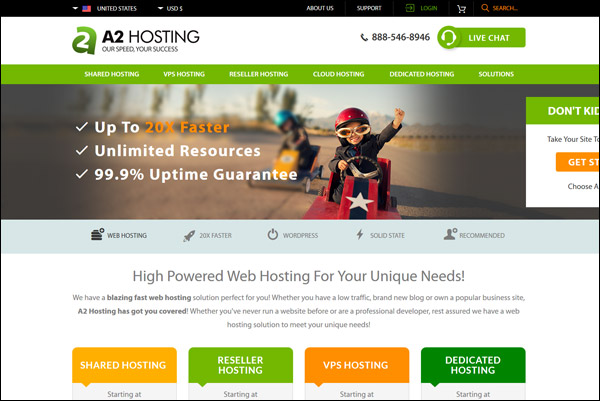 The main advantages of A2 Hosting for WordPress is the availability of scaled server resource allocation on shared hosting plans, premium hardware including SSD storage on all accounts, a powerful pre-installed LAMP development environment with a large number of resources not found at other companies, and the availability of their TurboServer upgrade for easy implementation of advanced page caching features. Shared hosting accounts start with a 500 MB RAM allocation for single sites (4 GB virtual RAM), and offer 1-2 GB of physical RAM on unlimited domain plans equal to 8 GB of virtual RAM. The SSD storage facilities on the server hardware benchmarks at 20x faster page load speeds for database-driven CMS websites. A2 Hosting's TurboCache upgrade offers a low density server environment with integrated APC, OPcache, and Memcached features. Free use of the CloudFlare CDN is available on all accounts. Site owners building custom Nginx, Redis, or Varnish Cache solutions can take advantage of one of A2 Hosting's VPS or dedicated server plans. PHP 7 is available on all accounts, and TurboCache servers will support both HTTP/2 and SPDY. A2 Hosting also includes a number of utilities that can be used to increase platform security and prevent hacking attacks on WordPress websites. A2 Hosting targets their platform services primarily to web developers and programmers building custom solutions for WordPress by offering a large number of LAMP stack extensions and tools on their plans. View all WordPress hosting plans
4. Bluehost – Optimized WordPress Hosting Plans
Bluehost has drawn upon their company experience in programming code for the WordPress platform to build one of the most advanced cloud hosting environments available under a "Infrastructure as a Service" (IaaS) model. Many WordPress site owners with popular blogs and high traffic ecommerce sites look for an Nginx solution in order to increase rendered page load speeds over what an Apache server will provide. Bluehost's cloud platform for WordPress is based on KVM and OpenStack virtualization with Nginx reverse-proxy caching running along with PHP-FPM for best CMS performance optimization. With unlimited domain support on every plan, 2 GB to 8 GB of dedicated system RAM allocated to every account, and the ability to scale to support over 600 million page views per month using WordPress, Bluehost's cloud hosting plans are one of the best in the industry. Considering that it can cost thousands of dollars to hire a web development team and experienced systems administrators to build-out a custom Nginx solution for WordPress on a VPS or dedicated server plan, these accounts offer excellent value to business owners and independent publishers at a cost of only $19.99 to $49.99 per month. With all the advantages of a cPanel hosting plan, including a free domain registration, dedicated IP address, advanced security features, and automatic website backup software, Bluehost provides all of the tools required for WordPress website development in a single cloud hosting account. View all WordPress hosting plans
5. WP Engine – Exclusive Managed WordPress Hosting
WP Engine is a specialist company that has dedicated its entire business model to providing the highest level of scalable hosting resources to WordPress website owners and is employed to keep some of the most popular sites on the web online across a wide variety of user traffic requirements. Similar to the other WordPress platforms reviewed, WP Engine implements a combination of premium hardware, load balanced network traffic routing, and advanced page caching techniques in order to optimize WordPress websites for the highest levels of performance. WP Engine's proprietary EverCache technology integrates with managed CDN services to load web pages in 150 milliseconds and has been used to scale to support over 100 million page views per day with the most popular WordPress sites. The company has WordPress hosting plans targeted at small business, enterprise corporations, independent web publishers, and ecommerce stores. Plans start at $29 per month for single sites and $249 per month for 25 domains. All WP Engine hosting plans include a development sandbox environment for testing code and the ability to run WordPress on PHP 7 for faster speeds. Another advantage of WP Engine is their customer service, which consists of some of the most knowledgeable WordPress experts in the industry. The company has an automated migration service that makes it easy to move existing WordPress websites over to the platform which includes import of SSL/TLS certificates from other hosting plans. View all WordPress hosting plans
What to Look for When Purchasing a WordPress Hosting Plan
There is widespread documentation in the WordPress development community of publishers scaling WordPress sites to support millions of page views per month on a standard shared hosting account using advanced page caching techniques that are installed through plugins. The main principle is to replace the dynamically generated content that the CMS produces through PHP code and requests to the MySQL database tables with static HTML pages where the CSS, JavaScript, and embedded media files are all highly compressed to serve to the browser. When these compressed pages are cached and stored on the server in advance of a potential user visit, they can be downloaded much faster, especially when integrated with CDN services, and also require very little processing power on the hardware to complete the user request. This becomes increasingly more important as the number of simultaneous users to a website grows or during traffic spikes which surge when a link to a site goes viral on social media. The most popular websites must manage these user traffic levels continually, and this requires multi-layered caching techniques including the replacement of the Apache server software with Nginx.
With the exception of a few cloud services like Bluehost or WP Engine, any website owner implementing an Nginx solution will need to contract for a VPS or dedicated server plan and install the LEMP environment manually. Not only does this take some technical knowledge in systems administration and web development, but it also requires a cost for the web hosting plan that will be at minimum 10 to 20 times more expensive than an average shared Linux account. Because of this, cloud hosting services that provide the Nginx or Varnish Cache integration pre-installed in advance can be very helpful in saving time and money on advanced solutions for small business websites. This is the whole principle of "Platform as a Service" products, which provide the same solutions used by the largest sites on the web or in "big data" applications to the retail market by pre-installing all of the tools and software on the servers through custom stack infrastructure deployment. Many of the new cloud hosting plans for WordPress have system resources and web server hardware that is the equivalent or better than VPS plans. Use of third-party plugin solutions is often sufficient for most WordPress websites to perform optimally on shared Linux hosting plans. The inclusion of developer tools on a platform is a bonus that can help speed up common web development tasks. Premium hardware, network load balancing, and advanced page caching techniques can all provide additional levels of speed gains in WordPress website performance. Site owners need to balance their web traffic requirements with budgetary restrictions in order to determine the best web hosting deal for a project or enterprise.
Some of the most important features to look for when deciding on the purchase of a WordPress hosting plan are:
WordPress Development Tools – the WP-CLI command line utility, BoldGrid site builder, Git for version control, & WordPress staging environments for testing code changes
Premium Hardware on Servers – more CPU cores, larger allocations of DDR4 RAM, & solid state drive (SSD) storage on servers will lead to better overall processing speeds
Cloud Platform Optimization – data mirroring, network load balancing, and increased use of platform virtualization can optimize web traffic routing speeds on networks
Advanced Page Caching – Nginx, Varnish Cache, APC, OPcache, & Memcached platform integration can save development costs and provide huge performance gains for WordPress
Global CDN Integration – many webhosts offer free CloudFlare CDN accounts for the deployment of cached website pages to global data centers to serve major media markets
Scalable System Resources – increasing the amount of hardware resources available for WordPress code & database request processing is one of the best ways to boost speed
Script Installation Wizards – many developers prefer to use "one click" script installation utilities through Softaculous or Fantastico for launching new WordPress sites
Systems Administration – cPanel is popular for domain name administration and web server settings configuration, but many users require SSH access for command line tools
The easiest way to improve WordPress website performance is to increase the available hardware resources dedicated to the CMS. However, because this is not possible on most shared hosting plans, site owners have traditionally needed to transfer their website to a more expensive VPS or dedicated server account in order to accomplish this. In contrast to other webhosts, A2 Hosting and InMotion Hosting both offer scaled system resource allocation on their shared hosting accounts, where their upper tier, "unlimited" domain hosting plans receive a 4 GB RAM allocation, comparable to many VPS configurations. For reference, most web hosting companies only allocate an average of 384 MB RAM to shared hosting accounts which is used to support all of the domains registered by the customer. HostGator and Bluehost both offer cloud hosting plans with up to 6 GB of RAM and 6 CPU cores allocated to each account, including the use of premium hardware with SSD storage. When combined with the advanced page caching features that are included on the cloud platforms, which include Nginx and Varnish Cache, these plans scale WordPress to a far greater numbers of page views with faster code and database processing speeds than available on most shared hosting plans. In an environment where almost every shared Linux hosting company will support the minimum requirements for installing WordPress, these plans are specifically designed so that the CMS operates at the highest levels of performance. This can be vital for popular blogs, media websites, ecommerce stores, and other businesses using WordPress as a web publishing solution.
WordPress site owners need to look at the overall package offered by a web hosting company and then compare the available features between plans with reference to the price difference. Cloud hosting solutions provide scalable resource allocation equivalent or better to many VPS plans at a fraction of the price. Although developers with custom code or server software requirements will not be able to install the alternative frameworks on most cloud hosting plans, they do provide much better performance than shared hosting for WordPress websites. VPS solutions allow for more flexibility in systems administration and creating a custom software stack. For example, most WordPress site owners running an Nginx solution will need to install the server software on a VPS plan. Cloud hosting plans do not always include Nginx, and many that do use it as a front-end server while maintaining Apache as the back-end platform. Nevertheless, running WordPress with Nginx on a VPS plan can support up to twice the number of simultaneous users on the same hardware with even faster page load speeds than available with other solutions. For most WordPress site owners, the upgrade to a cloud hosting plan over shared hosting is worthwhile for the performance gains in script processing, and those with custom code requirements or implementing alternative server software to Apache will need to contract for a VPS plan. Shared hosting plans with scalable resource allocation like A2 Hosting and InMotion Hosting are a superior choice for WordPress site owners seeking the best platform performance for professional, business, and ecommerce applications.