Rochen Review + Coupon
Overall Score:Rochen
4.5 stars
Based on a
5

Star Rating System
| | |
| --- | --- |
| Tech Support | |
| Speed | |
| Reliability | |
| Price | |
| Ease of Use | |
30 day money-back guarantee!
Rochen is a specialist cloud hosting company offering a combination of premium business hosting plans, reseller accounts, and managed cloud servers to clients. The company runs a distributed cluster server network architecture based on VMware virtualization software. The premium business hosting platform at Rochen is based on CloudLinux and LiteSpeed servers that run faster than Apache, while still offering all of the ease of use of cPanel for domain administration. Rochen provides a highly optimized server environment for PHP, Python, and Perl scripts, with the service as a whole designed to provide superior performance for CMS websites. Rochen is the hosting provider for Joomla.org and includes an excellent selection of developer tools on its cloud platform, including Git, WP-CLI, Drush, and Joomla Utilities. SSH access and SFTP are standard on all accounts, and Rochen also issues free "Let's Encrypt" SSL/TLS certificates for every domain hosted on the service. Premium plans start at only $4.95 per month.
Some key features of Rochen:
Elastic cloud architecture based on distributed server clusters that scale to web traffic
Premium business hosting plans include highly optimized environment for CMS scripts
Servers run on LiteSpeed, CloudLinux, and VMware virtualization for better performance
Support for PHP 7.1, HTTP/2, CloudFlare Railgun, Zend Optimizer, & ionCube loaders
Daily website backups of files and databases included free in all hosting plans
Hardware configuration of cloud servers can be scheduled or changed in real-time
Extensive use of network monitoring to provide cloud load balancing on web servers
System resources will support over 10 million page views per month for websites
Rochen has data centers in both the U.S. and U.K. with the ability to choose either location for hosting website files. The company was founded in Scotland and then expanded to the United States as its business services grew. Rochen has taken on a major sponsorship of open source CMS development with Joomla, Drupal, and WordPress contributions. The company remains independent and has carved out a successful niche in cloud hosting as one of the pioneers of platform services. Rochen is one of the most developer-friendly companies in the industry and their cloud hosting plans include a suite of advanced tools for programmers, as well as supporting the latest internet standards. With integrated CDN caching, Rochen offers some of the fastest benchmarked page load times available for CMS websites running on the LAMP stack. Site owners and developers can take advantage of our discount coupon for Rochen to receive an additional discount when signing up for a new cloud hosting plan.
Everything You Need to Know About Rochen
Rochen is a cloud hosting company specializing in platform services for CMS websites. The company offers premium business hosting plans, reseller accounts, and managed cloud servers for enterprise. Rochen's cloud servers run on VMware virtualization and LiteSpeed with elastic cluster scaling features.
SERVICES OFFERED: Premium Web Hosting, Reseller Hosting, & Managed Cloud Servers
PRICE RANGE: $4.95 to $1740 per month
MONEY-BACK GUARANTEE: 30 days
SERVER LOCATIONS: United States (Dallas, TX) and Europe (London, UK)
CUSTOMER SUPPORT: Support Tickets, Knowledge Base, & User Forums
Rochen offers premium web hosting plans, reseller accounts, and a managed cloud server platform that all share the same software stack which is based on CentOS/CloudLinux, Apache/LiteSpeed, and cPanel, running under VMware virtualization. All of Rochen's servers are highly optimized environments for PHP, Python, and Perl scripts, with a large number of available third-party software tools and utilities.
SHARED LINUX HOSTING PLANS:
| Plan Name: | # of Sites: | RAM: | Bandwidth: | Price: |
| --- | --- | --- | --- | --- |
| One Site | 1 | 20 GB | Unmetered | $4.95/mo |
| Multiple Sites | Unlimited | 60 GB | Unmetered | $8.95/mo |
Rochen's premium web hosting plans run on CloudLinux and LiteSpeed servers, with distributed cluster cloud architecture, SSD storage on all accounts, and performance optimization designed for CMS scripts.
RESELLER HOSTING PLANS:
| Plan Name: | # of Sites: | RAM: | Bandwidth: | Price: |
| --- | --- | --- | --- | --- |
| Unlimited Reseller | Unlimited | 60 GB | 100k views | $19.95/mo |
Rochen's reseller hosting plan supports unlimited websites with a unique cPanel login for each account, 60 GB of SSD storage, and a free ClientExec license, along with all of the benefits of their Premium plans.
MANAGED CLOUD SERVER PLANS:
| Plan Name: | vCPUs: | RAM: | Storage: | Price: |
| --- | --- | --- | --- | --- |
| Config 1 | 2 | 4 GB | 100 GB | $200/mo |
| Config 2 | 4 | 8 GB | 200 GB | $350/mo |
| Config 3 | 8 | 24 GB | 400 GB | $770/mo |
| Config 4 | 24 | 64 GB | 500 GB | $1740/mo |
The managed cloud server platform at Rochen is one of the most advanced in the industry and used by Joomla.org as a hosting provider. Each server is equipped with elastic cloud system resource scaling.
Rochen offers discounts on their premium web hosting and reseller plans when customers sign up for a multiple year contract. Their managed cloud server plans are only billed month-to-month. Cloud servers can be configured with up to 32 vCPUs, 156 GB of RAM, and 500 GB of SSD storage capacity.
Rochen offers a non-conditional money back guarantee on their hosting plans and managed cloud servers for new signup customers. If a web hosting account is cancelled in the first 30 days of a new contract, Rochen will refund the charges in full to a customer's credit card. Otherwise, they do not issue refunds on their products or services to clients for other purchases that are made on an account.
30 DAY MONEY BACK GUARANTEE on all new hosting contracts.
NO REFUNDS on hosting plan renewals, Terms of Service violations, or other domain services.
Rochen owns and operates all of its own hardware in two data centers. One is located in Dallas, Texas and the other is in London, England. Customers have a choice of which data center they prefer their site files to be hosted in. Rochen's server hardware is managed in cloud network arrays based on VMware virtualization software which includes advanced system resource monitoring for load balancing and web traffic optimization. On the Rochen managed cloud system, website files are never fully locked into a single hardware unit but rather exist in multiple copies in the data center where web traffic is routed to the server most able to complete each request the fastest. System resources on the cloud servers can be scaled up or down at any time on a hosting account to provide for more RAM, vCPU cores, or storage.
DATA CENTER LOCATION #1: United States – Dallas, TX
DATA CENTER LOCATION #2: Europe – London, UK
Rochen also splits their web servers, email, FTP, and database servers onto different virtual machines rather than hosting them all on a single dedicated hardware unit in accordance with the latest industry standards in cloud networking. The company runs either 64-bit CentOS or CloudLinux as the base operating system with options for both Apache and LiteSpeed in server software deployment. The LAMP stack includes a full suite of developer tools including cPanel, Git, Drush, WP-CLI, and Joomla Utilities.
Rochen's managed cloud servers will scale up to 32 vCPUs and 156 GB of RAM with any amount of SSD storage. These configurations are capable of supporting over 10 million web page views per month.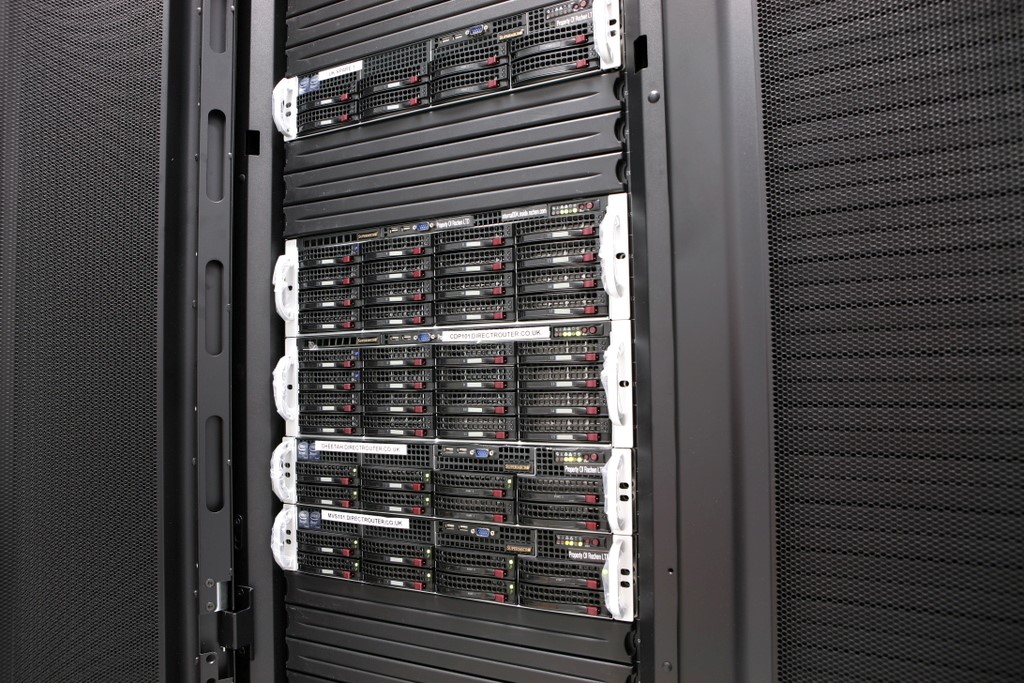 The base configuration of Rochen's premium web hosting plans includes CloudLinux, LiteSpeed Server, cPanel, PHP (5.3-7.1), MySQL (5.6), Perl (5.10), Python (2.6), HTTP/2, SSH, SFTP, and CloudFlare Railgun.

Rochen's customer support solutions are extremely streamlined and efficient in accordance with their overall business strategy. Phone and email requests are limited to sales questions only. Any technical issues need to be submitted through support tickets from the account administration panel. The company does not offer a live chat service. Rochen has an active user forum for additional help, as well as a knowledgebase section with extensive articles on hosting account management for the platform and guides for using popular CMS scripts in web development.
PHONE SUPPORT: Rochen's phone support services are limited to managing sales questions. The U.S. office can be contacted toll free at 1-888-706-HOST. International customers can dial 1-214-716-5055 at normal rates. The UK office of Rochen can be reached toll free at 0-800-098-8198. International clients calling the London office can also dial direct at (+44) 1-382-755042.
EMAIL SUPPORT: Rochen's sales department can be reached at sales@rochen.com. The staff managing this email address do not accept technical support questions from registered customers.
SUPPORT TICKETS: Rochen clients can open support tickets using the MyRochen Dashboard. Under the "Quick Links" section there is a "Submit Ticket" link which includes a form to describe the issue and open a threaded channel to communicate with the Rochen customer support team.
KNOWLEDGEBASE: The Rochen Knowledge Base has a large number of technical articles, tutorials, and guides explaining how to work through common problems on the platform. The company also provides helpful information related to web development, script management, and the Joomla CMS.
USER FORUM: Registered users can browse the discussion threads on Rochen's User Forum or post questions to the site seeking help with their problems from administrators and other platform users.

Customer Reviews
Have your own comment about this web host? Write a review and tell us!
[wppr_reviews]
Sorry, there are no customer reviews yet for this web host.