5 Best Shared Web Hosting Providers of 2021
Shared web hosting is available on Linux and Windows servers from most of the major companies in the hosting industry, but the service quality, hardware standards, and software included for web developers on each plan varies significantly across the different platforms. With a shared hosting plan, you can start with a new website and build resources for a virtually unlimited number of domain names on a single account. Small businesses, bloggers, eCommerce sites, forums, wikis, and photo galleries all use shared hosting as a cost-effective means to publish information online. If you purchase this type of web hosting, you will share one server with many other websites. It means, one server stores all the files for several sites at once and is responsible for serving up information about them.
This article will review the five best shared hosting companies that we have identified for web development on the basis of web server hardware performance, platform features, quality of customer support, included software tools, and the affordability of each plan. Read on to learn more about our Top 5 Shared Web Hosting Providers of 2017 and use our coupon when signing up for even better discounts on a new web hosting account.
Our Top 5 Favorite Shared Web Hosting Providers:
1. InMotion Hosting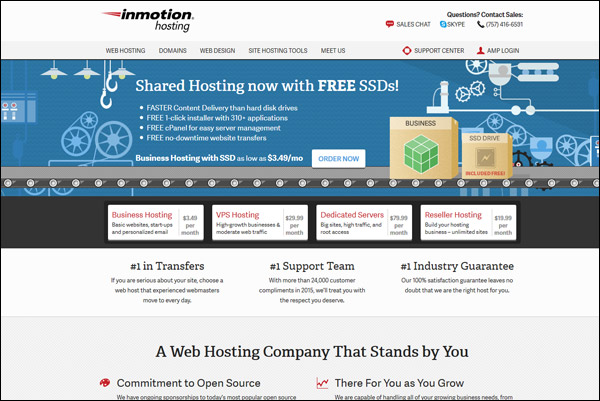 InMotion Hosting provides shared Linux web hosting plans that are designed for database-intensive business applications and run on high performance server hardware in a world class data center. Our benchmark tests have established InMotion Hosting as one of the fastest web hosts in loading pages from popular CMS scripts like WordPress, Drupal, Joomla, and Magento. The shared hosting plans from InMotion Hosting are based on 24-core servers with 1 GB to 4 GB of RAM dedicated to every account, and include SSD storage facilities. With free website backup services, new support for PHP 7, and their proprietary development of Max Speed Zone™ technology to optimize web traffic, we recommend InMotion Hosting for both business applications and independent web publishers who require top-level hardware with an advanced development environment at the best competitive prices. View all shared hosting plans
2. iPage
iPage is a shared Linux web host running CentOS and cPanel with a single, unlimited account plan that offers the ability to add as many domain names, website files, MySQL databases, or email accounts that may be needed for web development at only $1.88 per month. The servers used by iPage are 32-core AMD Opteron 6376 and Intel Xeon E5-2630 v3 units installed with 32-64GB of RAM. iPage implements a load balancing system where HDDs are used to serve static website files and SSDs are installed only on the hardware managing database queries. This low cost platform will support most PHP, Perl, Python, and Ruby on Rails web development requirements. With a free domain name registration on new accounts, and an introductory discount over $10 per month off the cost of similar plans at other web hosts, iPage is a great choice for bargain hunters looking for the lowest prices on shared hosting plans. View all shared web hosting plans
3. HostGator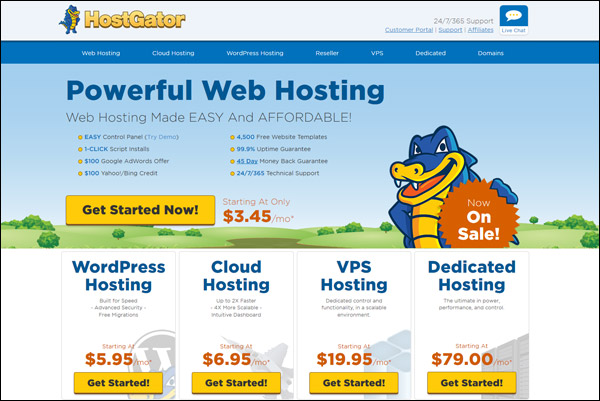 HostGator is a popular web hosting company that offers industry-standard shared Linux hosting plans on a platform running CentOS and cPanel. Site owners can take advantage of the many software tools provided by HostGator to easily manage multiple domain names, email accounts, FTP connections, and MySQL databases required for web development. HostGator's shared server hardware is built on 32-core AMD Opteron 6376 servers and Intel Xeon E5-2630 v3 hardware with 32 GB to 64 GB of installed RAM. Solid state drives (SSDs) are now standard on all accounts, along with unlimited file storage and bandwidth. HostGator offers large discounts to first time users signing up for a new hosting plan, where you can guarantee low prices over the course of a long-term contract. Although they do not offer the same level of platform innovation as other companies on their shared hosting service, HostGator also provides cloud hosting services and are traditionally reliable in meeting server uptime guarantees. View all shared web hosting plans
4. Web Hosting Hub
Web Hosting Hub has established a unique system on their shared hosting plans which scales server resources to provide more RAM, CPU percentage, and simultaneous MySQL database connections to websites depending on the level of the service contract. This is different from many other companies in the industry who allocate the same amount of resources to single website plans on shared hosting as they do to unlimited domain accounts. With Web Hosting Hub, you receive 4 GB of physical RAM (8 GB of virtual RAM) on their "Dynamo" shared Linux plan, which is about 6 to 8 times the standard offered by competitors in the same price range. As this is an essential aspect to improving CMS performance under a shared hosting framework, we highly recommend Web Hosting Hub. Their platform has all of the tools required for LAMP development, includes SSD storage on all accounts, and new sign-up customers receive a free website transfer to switch services from another web hosting company. View all shared web hosting plans
5. SiteGround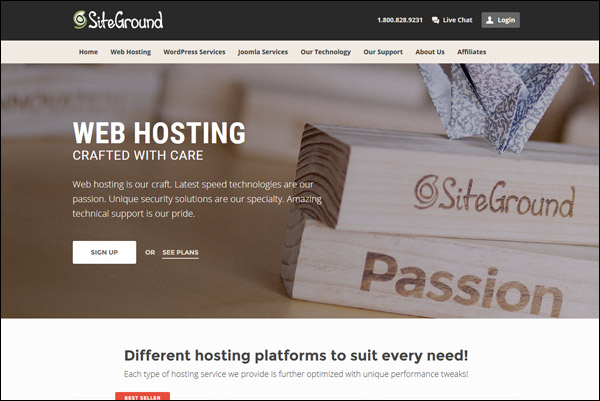 SiteGround offers an innovative cloud platform with integration of the reverse-proxy server Nginx as the basis of their shared web hosting account plans. Their custom-developed service offers better load balancing for web traffic and advanced page caching for websites as part of the standard hosting features. With a basis of cPanel for domain administration and Softaculous for "one click" script installation, even beginners will be able to easily manage DIY web publishing using SiteGround's software tools. Professional developers can take advantage of support for PHP 7, HTTP/2, HHVM, and the SuperCacher extension to build custom apps with CMS scripts and open source code. SiteGround includes free "Let's Encrypt" SSL/TLS certificates for all registered domains. SiteGround uses 24-core, dual processor Intel Xeon E5-2690v3 servers with 256GB RAM and SSDs for their shared hosting plans. View all shared web hosting plans
What to Look for When Purchasing a Shared Web Hosting Plan
In shared web hosting, the resources of a single web server are used to support multiple domain names with different registered ownership, web developers, website content, and database information for the variety of divergent purposes related to web publishing, rather than being specifically dedicated to a single website, company, domain, or IP address. The web servers used in data centers today are the equivalent to super-computers when compared to the standards of the internet 20 years ago. A single web server can manage terabytes of website data with the latest multi-core processors after being installed with hundreds of gigabytes of RAM. Very few websites require the full system resources provided by this level of server hardware, and actually thousands of low traffic domains can be managed effectively at the same time by contemporary technology, each with their own databases and archives of site files, with support for up to about 10,000 concurrent users per machine on the Apache platform. Web hosting companies assign shared and dedicated IP addresses to register client domains to a server, and then manage network resources in order to make sure that the hardware can effectively serve the files required by user traffic requests for the published websites hosted by the company's services.
Under shared hosting frameworks, all of the websites on a server will collectively use the same CPU, RAM, hard drive or solid state drive storage space, and network traffic bandwidth facilities. A single data center with hundreds or thousands of web servers can effectively manage millions of domain names at one time under this networking system, enabling much of what is accomplished through web publishing on the internet with HTML, PHP, ASP.net, and other forms of server-side programming languages. Registered users receive a login account to a server that allows them to manage domain name related settings and aspects of the server configuration environment for their website files through cPanel, Plesk, vDeck, or a proprietary AMP system. Publishers and developers can upload files for web development through FTP or a browser-based software utility program, then use these files for further website construction. Domain name owners can also set up email addresses for their websites or install databases for web publishing, depending on the software maintained on the server by the web hosting company. Many web developers use open source scripts like content management systems (CMS), forums, wikis, blogs, and ecommerce stores with shopping carts for building websites on the LAMP platform with the tools provided as part of a standard account in a shared web hosting environment.
Shared web hosting is considered the cheapest way to publish information online and maintain a web presence, as the individual website owners do not need to invest in server hardware or personally manage a data center environment with high speed fiber optic connections. By pooling as many users as possible to each web server on an efficient basis, web hosting companies operate what has become known as "cloud computing" services for customers based on remote computer software applications and outsourced hardware. Web hosting companies manage their servers in climate controlled environments, applying security patches regularly to systems software, maintaining firewalls, and innovating in network management, all to build a better business model for web publishing and ecommerce. A data center must stay online 24 hours per day, 365 days per year, requiring a unique set of backup power supply management techniques, multiple network bandwidth providers, and the ability to upgrade hardware or software systems without taking client websites offline. In order to do this, the web hosting companies must hire qualified computer technicians and systems administrators, as well as maintaining numerous forms of customer support services as part of their business plan.
Some of the most important features to look for when deciding on the purchase of a shared web hosting plan are:
Web Server Hardware Quality – advanced hardware configurations on the web servers used in the data center will lead to better overall performance of hosted websites
Software Stack Customizations – web development requires support of the latest web standards, programming languages, server extensions, and utilities on the platform
Level of Resource Allocation – for CMS websites and databases to manage higher levels of web traffic, accounts should be allocated with more RAM, CPU cores, & SSDs
Cloud Platform Optimization – network load balancing, page caching, premium hardware, and low density accounts can all combine to optimize web server processing speeds
Customer Support Options – the quality of a technical support team includes expert level knowledge, response time, friendliness, and the number of ways to contact staff
Web Development Tools – hosting platforms that include third-party software utilities for web development, server performance optimization, website backups, & security
Unlimited Domain Names – for the greatest value and development flexibility on a shared hosting account, it is recommended to sign up for an unlimited domain name plan
Systems Administration – cPanel is the preferred choice for many in server administration & domain management, but SSH access can also be important for web developers
Uptime – is the time duration for which the hosting is performing and site is visible to end user without any problems.
Each web hosting company operates their own independent data centers, which leads to a wide variety of hardware used on hosting plans as well as different approaches to network management in the industry. The software stack installed by each web hosting company on their web servers may also vary greatly. This starts at the level of the operating system, for example, in the difference between Linux and Windows or in the variety of Linux distributions used on web servers. Hosting companies also often vary in the particular version of MySQL, PHP, and other programming languages that they support. There are also a wide variety of virtualization platforms and network management tools that can be used professionally in a data center network for web traffic. By looking at these details closely, it is possible to understand the platform differences between web hosts in a wider manner than just "Linux vs. Windows servers" or "Xeon vs. Opteron" comparisons. Web developers working daily with scripts or professional programmers coding custom solutions will pay the most attention to these features while many website owners simply look at the bottom line cost of a hosting plan vs. competitors.
On top of the hardware and software differences between web hosting plans, network management techniques optimize the performance speeds of the websites under platform management. In the current environment, it is possible to begin loading web pages in under a second using advanced page caching and global CDN integration. The latest search engine ranking algorithms also prioritize page load speeds and mobile views. The use of solid state drives (SSDs) on shared hosting accounts can speed up I/O data transfer requests and processing times on a web server up to 20x faster than traditional hard disk drives. It is recommended to sign up for a shared hosting account built on premium hardware with SSD storage options included by default and to search for companies that offer a higher level of network optimization for web traffic. The allocation of larger amounts of system resources, particularly RAM and CPU cores, can be sought in combination with a developer-friendly software stack which includes a wide number of tools and utilities for web design. The most power on shared hosting plans comes in their use for multi-domain support. It is important to confirm that a shared cPanel host will permit SSH access to the server, including support for cURL and version control platforms like Git or Subversion. Shared hosting plans designed for high performance developer support and based on platform innovation by company experts will outperform bargain plans in the long run, usually with minimal cost difference between the contracts.
As a beginner, it can be confusing to sort out all the different kinds of web hosting that are available. Learning more about shared hosting providers and how this particular type of hosting works is essential if you want to make an informed decision when purchasing your first hosting plan.