SiteGround Review + Coupon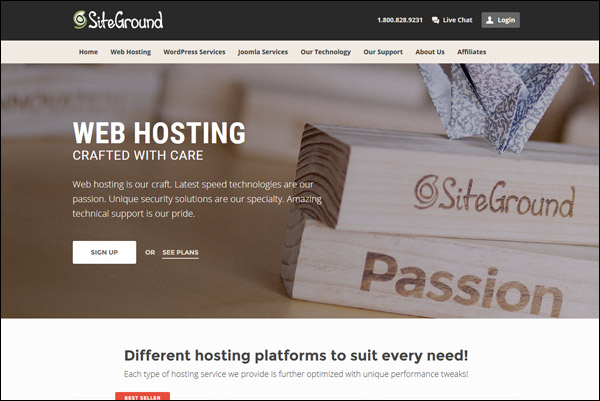 Overall Score:SiteGround
4.2 stars
Based on a
5

Star Rating System
| | |
| --- | --- |
| Tech Support | |
| Speed | |
| Reliability | |
| Price | |
| Ease of Use | |
30 day money-back guarantee!
SiteGround is a unique company in the web hosting sector, maintaining a strong focus on cloud platform innovation and employing many talented in-house programmers who often contribute to open source software projects like WordPress, Drupal, Joomla, and Magento. The company has invested heavily in Nginx integration to offer more advanced page caching facilities on platform hosted websites, which is now available on most SiteGround plans using the SuperCacher extension. Nginx greatly improves the performance of CMS websites by using a reverse proxy server for load balancing, with optimized caching and gzip compression of website files leading to faster page load speeds. SiteGround has also upgraded all of its server hardware to SSD storage for better PHP and MySQL database performance. The company offers shared Linux hosting plans with options for managed CMS applications, a cloud hosting platform, reseller accounts, and dedicated servers. All of SiteGround's web hosting plans run on CentOS Linux with cPanel for easy management of multiple domains in LAMP development, and include Softaculous for quicker "one click" script installations in web development.
Some key features of SiteGround:
Free domain name registration and site transfer service provided for all new accounts
45% to 60% discounts on shared hosting & managed CMS plans available for better deals
Extensive web development resources in knowledgebase articles, video tutorials, and webinars
Advance support for PHP 7, HTTP/2, HHVM, & other new web standards used in programming
Nginx caching features available on most hosting plans by enabling the SuperCacher plugin
Specializes in optimizing their platform for the requirements of open source CMS scripts
Let's Encrypt SSL/TLS certificates provided for free on plans for web encryption support
Outperforms in customer service with excellent response times and expert technical staff
SiteGround's data centers are built on high performance hardware. Their cloud hosting plans have the same functionality as a managed VPS platform with kernel level virtualization and the ability to customize the OS for web programming requirements. Site owners can choose to host their web files either in Chicago for the North American market or in three different international locations in the UK, Europe, and Asia. SiteGround publishes a large number of articles, video tutorials, webinars, and user guides that help many people to learn the fundamentals of web development. The company is active in protecting user privacy and web freedom traditionally vs. governmental regulation. Overall, SiteGround has a strong commitment to platform innovation in cloud hosting and employs many expert coders who work on open source projects. All of the web hosting plans at SiteGround are competitively priced by industry standards, while providing more development tools and platform optimization features than other companies in the sector. You can take advantage of their new account discounts and use our coupon to save even more at SiteGround for the best deals on web hosting.
Everything You Need to Know About SiteGround
SiteGround is a popular web hosting company providing innovative platform solutions for high performance website publishing, ecommerce, and mobile applications. The company contributes to many open source development projects with in-house programming staff, specializing in support for CMS hosting requirements. SiteGround offers pre-installed Nginx caching support with SuperCacher.
SERVICES OFFERED: Shared Hosting, Cloud Hosting, WordPress Hosting, Drupal Hosting, Joomla Hosting, Reseller Hosting, & Dedicated Servers
PRICE RANGE: $3.95 to $429.00
MONEY-BACK GUARANTEE: 30 days
SERVER LOCATIONS: United States (Chicago, IL), United Kingdom (London, UK), Europe (Amsterdam, NL), and Asia (Singapore, SG)
CUSTOMER SUPPORT: Phone, Live Chat, & Issue Ticket System
SiteGround offers three main types of web hosting: shared Linux plans, which also include managed CMS platform options; Cloud hosting plans, which are customized VPS installations; and dedicated servers, available on a managed approach where SiteGround's system administrators install the security updates. SiteGround's reseller accounts operate on a discount credit basis for each hosted sub-plan.
SHARED HOSTING PLANS:
| Plan Name: | # of Sites: | Storage: | Web Traffic: | Price: |
| --- | --- | --- | --- | --- |
| StartUp | 1 | 10 GB | cPanel | $3.49/mo |
| GrowBig | Unlimited | 20 GB | cPanel | $4.49/mo |
| GoGeek | Unlimited | 30 GB | cPanel | $7.49/mo |
All of SiteGround's shared Linux hosting plans include cPanel, SSD storage, and CloudFlare CDN support, with optimized Nginx caching (SuperCacher) available as a premium upgrade on the unlimited accounts.
CLOUD HOSTING PLANS:
| Plan Name: | Cores: | RAM: | Storage: | Price: |
| --- | --- | --- | --- | --- |
| Entry | 2 CPU | 4 GB | 40 GB | $80.00/mo |
| Business | 3 CPU | 6 GB | 60 GB | $120.00/mo |
| Business Plus | 4 CPU | 8 GB | 80 GB | $160.00/mo |
| Enterprise | 8 CPU | 10 GB | 120 GB | $240.00/mo |
SiteGround's cloud hosting plans feature kernel level virtualization, advanced OS customization options, pre-installed Nginx/Apache, CentOS, cPanel, SSD storage, PHP 7, HHVM, and a free dedicated IP address.
WORDPRESS HOSTING PLANS:
| Plan Name: | # of Sites: | Storage: | Web Traffic: | Price: |
| --- | --- | --- | --- | --- |
| StartUp | 1 | 10 GB | cPanel | $3.49/mo |
| GrowBig | Unlimited | 20 GB | cPanel | $4.49/mo |
| GoGeek | Unlimited | 30 GB | cPanel | $7.49/mo |
WordPress hosting accounts at SiteGround offer a free domain, site transfer, Let's Encrypt SSL/TLS certificates, HTTP/2 support, platform optimization, WP-CLI, auto-updates for the CMS, and more.
DRUPAL HOSTING PLANS:
| Plan Name: | # of Sites: | Storage: | Web Traffic: | Price: |
| --- | --- | --- | --- | --- |
| StartUp | 1 | 10 GB | cPanel | $3.49/mo |
| GrowBig | Unlimited | 20 GB | cPanel | $4.49/mo |
| GoGeek | Unlimited | 30 GB | cPanel | $7.49/mo |
All of SiteGround's CMS hosting plans are optimized with built in support for Nginx using SuperCacher, for which they have coded an additional Drupal module (D7 only) which needs to be installed manually.
JOOMLA HOSTING PLANS:
| Plan Name: | # of Sites: | Storage: | Web Traffic: | Price: |
| --- | --- | --- | --- | --- |
| StartUp | 1 | 10 GB | cPanel | $3.49/mo |
| GrowBig | Unlimited | 20 GB | cPanel | $4.49/mo |
| GoGeek | Unlimited | 30 GB | cPanel | $7.49/mo |
Joomla hosting plans include all of the features of the shared Linux platform with the addition of the JHackGuard plugin, Joomla SuperCacher, auto-updates for the CMS, & a dev sandbox environment.
DEDICATED SERVER PLANS:
| Plan Name: | CPU: | RAM: | Storage: | Price: |
| --- | --- | --- | --- | --- |
| Entry | Xeon E3-1230 | 4 GB | 500 GB | $229.00/mo |
| Power | Xeon E3-1270 | 16 GB | 1 TB | $329.00/mo |
| Enterprise | Xeon E5-2620 | 16 GB | 2 TB | $429.00/mo |
SiteGround's dedicated server plans provide powerful hardware solutions for the most demanding web and mobile applications, using pre-installed Nginx caching features to manage high traffic requirements.
SiteGround offers sizable discounts on its popular shared hosting plans for the consumer market while maintaining a fixed price approach on cloud hosting and dedicated server accounts. For example, the StartUp plans on the shared Linux, WordPress, and Joomla platforms are all discounted 60% for new sign-up customers. The GrowBig plan is discounted 45% and a new order of a GoGeek plan is available at 50% off the standard renewal price. Site owners can lock in to these great rates for up to three years on a new purchase. IT departments and small businesses with larger websites often prefer the fixed price referencing of SiteGround's cloud and dedicated server plans, for an easier means to estimate hardware costs over the long term for budgetary allocation purposes. Follow the links below for full pricing details.
SiteGround offers a 30 day money-back guarantee on all shared Linux hosting plans, which includes the WordPress, Drupal, and Joomla hosting services. The company will not refund payment on their cloud and dedicated server plans. Similarly, any charges related to domain name registration, domain privacy protection, or hosting contracts that have been renewed after the initial term will not be refunded.
In order to cancel a web hosting account at SiteGround, you need to login to the Account Management Panel and navigate to the Billing section. Fill out the cancellation form provided, while making sure to backup and transfer any site files before the request is submitted. SiteGround will then issue the refund to the original source of payment, i.e. the credit card registered on the account.
30 DAY MONEY BACK GUARANTEE on all shared hosting plans, including CMS hosting.
NO REFUNDS on any cloud hosting plans or dedicated servers.
NO REFUNDS on domain names, domain privacy services, or contracts that have renewed after 1 term.
SiteGround manages servers from data centers in four locations internationally, both independently and in association with partners such as SingleHop and SoftLayer, part of the IBM cloud. All of the facilities have high-level private security, including biometric identification on entry; 24/7 climate control warehousing of rackmount units; advanced power supply management, including UPS backups and fail-safe electricity generators; as well as multiple fiber-optic carriers providing the high-speed internet backbone connections. SiteGround's data centers are each positioned geographically to serve a major international market and customers can choose the location where their website files are hosted.
DATA CENTER LOCATION #1: United States – Chicago, IL
DATA CENTER LOCATION #2: United Kingdom – London, UK
DATA CENTER LOCATION #3: Europe – Amsterdam, NL
DATA CENTER LOCATION #4: Asia – Singapore, SG
SiteGround recently upgraded their hardware across all data centers to 24-core, dual processor servers based on Intel Xeon E5-2690v3 CPUs with 256GB RAM and 12x960GB SSDs in RAID10 configurations. All of SiteGround's servers now run on SSDs, which the company documents as establishing a 1000x increase in input/output operations when compared to HDDs. With this upgrade, SiteGround also changed over to a new shared hosting virtualization system based on Linux containers (LXC) in order to provide better server resource allocation to client accounts. R1Soft's Server Backup Manager is used in SiteGround's data centers to create storage snapshots of all website data hosted on the network.
SiteGround is leading advancement for Let's Encrypt SSL/TLS certificates and the HTTP/2 protocol in their data centers, for faster page load speeds on websites and wider use of encryption across the web.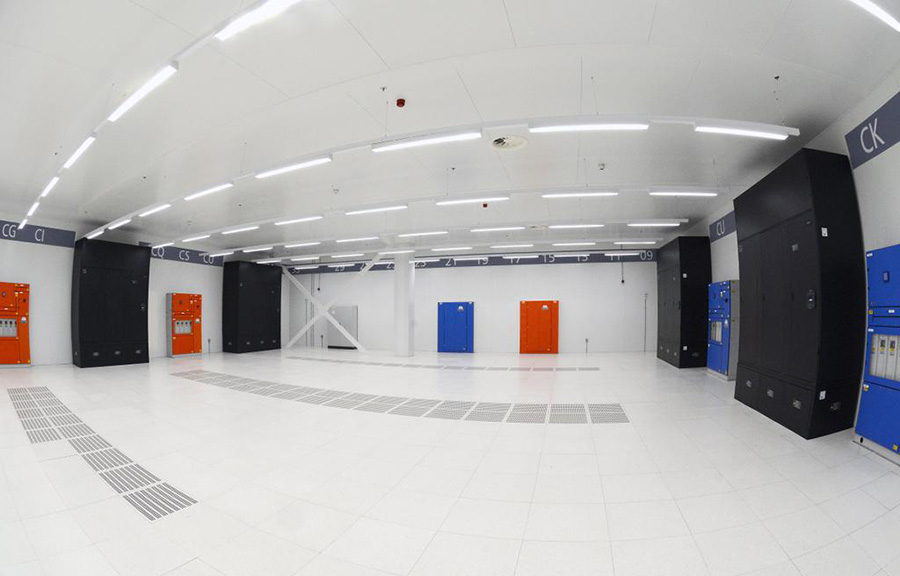 SiteGround is also one of the first major web hosting companies to implement support for both Hip Hop Virtual Machine (HHVM) and PHP 7 on their shared hosting, cloud hosting, and dedicated server plans.
SiteGround has a highly respected customer support network which promises some of the quickest response times in the industry. Their phone center answers immediately, compared to the long waits frequent at other hosts. The live browser chat service that operates from the SiteGround website can also be used to solve technical issues and billing related problems. The company typically replies to all issue tickets submitted to staff within 10 minutes.
SiteGround hosts a large number of articles, FAQ pages, "how to" guides, and user tutorials in their knowledgebase, which can be accessed from the Help section. You can search their library of video tutorials for even more resources. The company also publishes a webinar series on topics related to web development and hosting issues. All of these sources are packed with valuable information that can help site owners to solve common problems in web design.
PHONE SUPPORT: SiteGround's phone support center can be reached by dialing toll-free 1-800-828-9231. You can discuss both technical and billing issues with company staff to solve hosting related problems quickly. Their alternate number is 1-866-605-2484, which can also be used by international clients.
LIVE CHAT: Use the link above the main menu on the website to launch a live chat session. SiteGround provides instant feedback on technical issues and can also escalate other problems to the appropriate representatives within the company internally.
ISSUE TICKETS: Registered SiteGround customers can login to the Account Management Panel and navigate to the Support section from the main menu to submit an issue ticket. Select the category and type of support required, then use the sidebar menu links to manage threaded replies.
KNOWLEDGEBASE: The SiteGround knowledgebase has over 1500 articles posted including guides on how to configure account settings in cPanel for email, FTP, SSL, CDN, etc., as well as how to use popular open source scripts like WordPress, Drupal, Joomla, Magento, and other ecommerce platforms in web design.
VIDEO GUIDES: SiteGround has a video library on their website with more than 200 tutorials available on web development and web hosting topics. They also have a YouTube channel with more information.
Customer Reviews
Have your own comment about this web host? Write a review and tell us!
[wppr_reviews]
Sorry, there are no customer reviews yet for this web host.